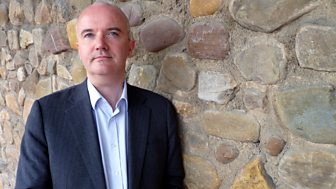 Wales at Work
Brian Meechan presents the award-winning workplace programme, covering issues important to everyone connected to the world of work and business in Wales.
Podcast
Episodes to download
Wales At Work (1)
The world of work and business in Wales discussed…
About the programme
Wales@work has been on the air for over 11 years, providing a lively take on the work and business scene in Wales. 
In that time it's won three awards - in January 2007 the programme was judged best regional business programme on TV or radio in the UK by the Work Foundation.
Chair of the judges Will Hutton said: "Wales at Work exemplifies all that is best about the BBC - intelligent, balanced, informative, public service-oriented and with high production values. It picks surprising subjects, researches them thoroughly and brings them to life through well-cast discussions. We await with anticipation a national equivalent."
Wales@work won the Work Foundation's accolades for best radio programme in 2003 and best regional broadcast in 2006.
You can contact us by emailing work@bbc.co.uk, or calling 029 20 322411 during weekday office hours.