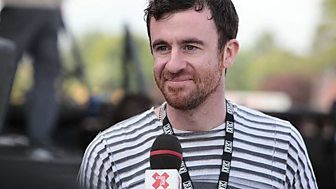 Across the Line
Rigsy introduces the new music from Northern Ireland and the Republic, including sessions, live listings, features and his own inimitable charm. Expect indie, rock and dance music, plus probably a few things you just can't categorise, nor would you want to try...
Apply for tickets to attend an evening of live sets in BBC Blackstaff Studios, Belfast

With new music from Tiny Magnetic Pets, Femmepop, So Cow and Fiona O'Kane.

Today's track for the Day, featuring B'ackbone of Night' by Speed of Snakes

The 12 albums shortlisted for the Northern Ireland Music Prize 2014 have been announced

Paper Man tell us about The Making of their new EP 'Midfield Modern Argument'.