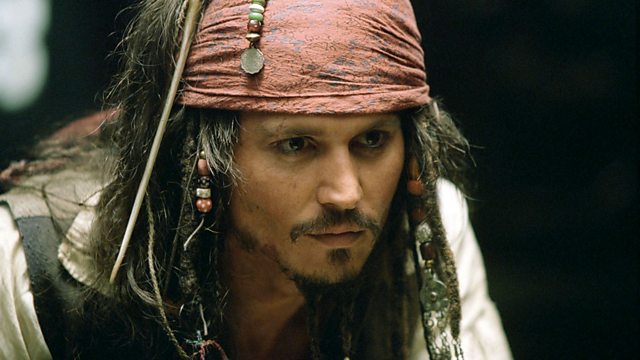 Pirates of the Caribbean: The Curse of the Black Pearl
Swashbuckling adventure in which eccentric Captain Sparrow is on a mission to rescue the governor's beautiful daughter, Elizabeth, and his ship, the Black Pearl, both of which have been captured by curse-ridden pirate Captain Barbossa. Captain Sparrow and Will Turner, a dashing swordsman who is madly in love with Elizabeth, brave the deadly seas and head towards the mysterious Isla de Muerta as they try to stop the skeletal pirates from spilling Elizabeth's blood to lift the curse that keeps them in limbo.
Mary Anne Hobbs asks Hans Zimmer just how important is the soundtrack to a movie?
BBC iPlayer - unavailable episode
Programmes are unavailable for a number of reasons including technical problems, legal or contractual issues or because we do not make all of our content available on BBC iPlayer.
Credits
| Role | Contributor |
| --- | --- |
| Jack Sparrow | Johnny Depp |
| Barbossa | Geoffrey Rush |
| Will Turner | Orlando Bloom |
| Elizabeth Swann | Keira Knightley |
| Governor Weatherby Swann | Jonathan Pryce |
| Director | Gore Verbinski |
| Norrington | Jack Davenport |
| Pintel | Lee Arenberg |
| Ragetti | Mackenzie Crook |
| Lieutenant Gillette | Damian O'Hare |
| Murtogg | Giles New |
| Mullroy | Angus Barnett |
| Cotton | David Bailie |
| Joshamee Gibbs | Kevin R McNally |
| Koehler | Treva Etienne |
| Anamaria | Zoe Saldana |
| Harbourmaster | Guy Siner |
| Young Elizabeth | Lucinda Dryzek |
| Writer | Ted Elliott |
| Writer | Terry Rossio |
| Writer | Stuart Beattie |
| Producer | Jerry Bruckheimer |
| Composer | Klaus Badelt |
| Director of photography | Dariusz Wolski |