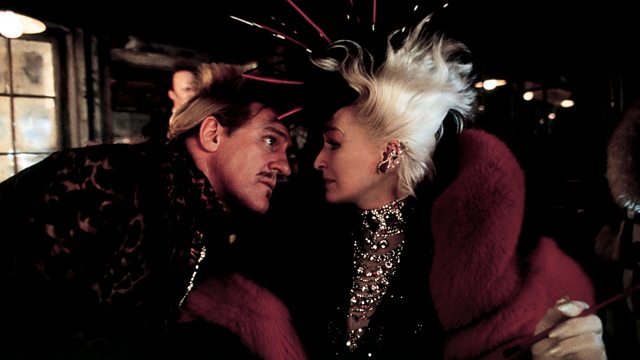 102 Dalmatians
In this sequel to 101 Dalmatians, Cruella de Vil is out of prison and seemingly a changed woman. But she soon returns to her old tricks and is only too delighted to learn that her parole officer Chloe has a family of dalmatians and connections with a dog charity. Unable to resist temptation, the evil Cruella promptly teams up with an OTT French designer in an attempt to create the ultimate dalmatian puppy coat - this time with a hood.
102 Dalmatians on BBC iPlayer
This programme is not available on BBC iPlayer. Programmes are unavailable for a number of reasons including technical problems, legal or contractual issues or because we do not make all of our content available on BBC iPlayer.
Credits
| Role | Contributor |
| --- | --- |
| Cruella de Vil | Glenn Close |
| Jean-Pierre Le Pelt | Gerard Depardieu |
| Kevin Sheperd | Ioan Gruffudd |
| Chloe Simon | Alice Evans |
| Alonzo | Tim McInnerny |
| Mr Torte | Ian Richardson |
| Waddlesworth | Eric Idle |
| Ewan | Ben Crompton |
| Agnes | Carol Macready |
| Judge | Timothy West |
| Detective Armstrong | Jim Carter |
| Mr Button | Ron Cook |
| Director | Kevin Lima |
| Producer | Patricia Carr |
| Producer | Edward S Feldman |
| Author | Dodie Smith |
| Writer | Kristen Buckley |