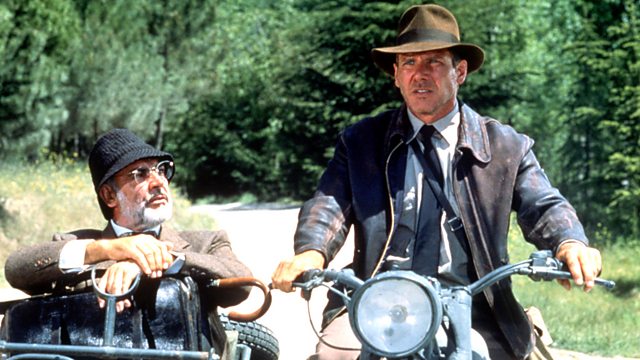 Indiana Jones and the Last Crusade
Action adventure in which the intrepid explorer sets out to rescue his father, a medievalist, who has vanished while searching for the Holy Grail. Following clues in the old man's notebook, Indy arrives in Venice, where he enlists the help of a beautiful academic. But they are not the only ones who are on the trail, and some sinister old enemies soon come out of the woodwork.
BBC History: Legend of the Holy Grail
Indy and his crotchety father are hunting for the Holy Grail in The Last Crusade - but what's the story behind the grail, and how has it changed over the centuries?
BBC Films: Review of Indiana Jones and the Last Crusade
Credits
| Role | Contributor |
| --- | --- |
| Indiana Jones | Harrison Ford |
| Professor Henry Jones | Sean Connery |
| Marcus Brody | Denholm Elliott |
| Elsa | Alison Doody |
| Sallah | John Rhys-Davies |
| Walter Donovan | Julian Glover |
| Young Indy | River Phoenix |
| Vogel | Michael Byrne |
| Kazim | Kevork Malikyan |
| Grail Knight | Robert Eddison |
| Fedora | Richard Young |
| Sultan | Alexei Sayle |
| Mrs Donovan | Isla Blair |
| World War I Ace | Frederick Jaeger |
| Hatay Tank Gunner | Stefan Kalipha |
| Gestapo | Pat Roach |
| Director | Steven Spielberg |
| Writer | Jeffrey Boam |
| Producer | Robert Watts |
| Composer | John Williams |
| Director of photography | Douglas Slocombe |
| Actor | Vernon Dobtcheff |