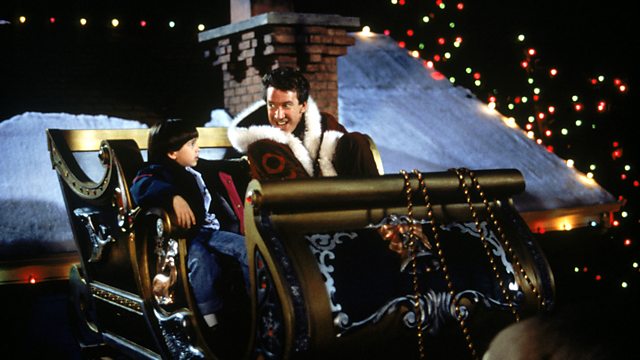 The Santa Clause
Seasonal family comedy about a reluctant Christmas hero.
When Santa Claus falls off Scott Calvin's roof on Christmas Eve, the divorced dad reluctantly agrees to don the oversized costume and help deliver presents for the night. He soon realises, however, that the small print commits him to the role permanently.
The biggest trouble is that nobody but Scott's son Charlie (and the residents of the North Pole) knows the truth; all anyone else can see is that Scott's behaviour is becoming increasingly strange.
Credits
| Role | Contributor |
| --- | --- |
| Scott Calvin | Tim Allen |
| Neal | Judge Reinhold |
| Laura | Wendy Crewson |
| Charlie | Eric Lloyd |
| Bernard | David Krumholtz |
| Detective Nunzio | Larry Brandenburg |
| Miss Daniels | Mary Gross |
| Mr Whittle | Peter Boyle |
| Susan Perry | Judith Scott |
| Judy the Waitress | Jayne Eastwood |
| Ad Executive | Jesse Collins |
| Larry the Elf | Joshua Satok |
| Elf in Hangar | Azura Bates |
| Dr. Pete Novos | Steve Vinovich |
| Mailman | Dennis O'Connor |
| Future Ballet Girl | Tabitha Lupien |
| Bobby, Kid # 1 | Zachary McLemore |
| Principal Compton | Joyce Guy |
| Kid at Soccer Field | Lachlan Murdoch |
| Sarah the Little Girl | Melissa King |
| Elf at North Pole | Bradley Wentworth |
| Waiter | David-Paul Grove |
| Classroom Kid # 2 | Lindsay Lupien |
| Classroom Kid # 3 | Alexandra Petrocci |
| Ruth | Aimee McIntyre |
| Director | John Pasquin |
| Producer | Brian Reilly |
| Producer | Jeffrey Silver |
| Producer | Robert Newmyer |
| Writer | Leonardo Benvenuti |
| Writer | Steve Rudnick |