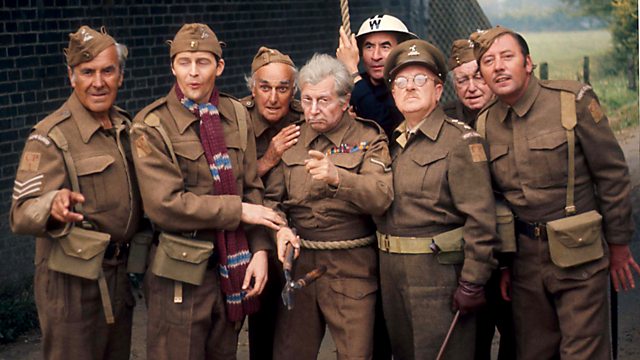 Dad's Army
Feature-length version of the classic sitcom about the Home Guard unit of a small seaside town.
In 1940, with a German invasion looming, the defence of Walmington-on-Sea is in the hands of local bank manager Captain Mainwaring and a motley collection of volunteers.
After a series of blunders, the Home Guard finally get the glory they deserve.
How close to reality was the depiction of the Home Guard in the series Dad's Army?
BBC News: Gambon and Courtenay to star in Dad's Army film
Credits
| Role | Contributor |
| --- | --- |
| Captain Mainwaring | Arthur Lowe |
| Sergeant Wilson | John Le Mesurier |
| Private Frazer | John Laurie |
| Private Walker | James Beck |
| Lance Corporal Jones | Clive Dunn |
| Private Godfrey | Arnold Ridley |
| Private Pike | Ian Lavender |
| Mavis Pike | Liz Fraser |
| Major Gen Fullard | Bernard Archard |
| Regimental Sergeant-Major | Derek Newark |
| ARP Warden Hodges | Bill Pertwee |
| Reverend Farthing | Frank Williams |
| Director | Norman Cohen |
| Producer | John R Sloan |
| Writer | Jimmy Perry |
| Writer | David Croft |
How Captain Mainwairing and Sgt Wilson got called up