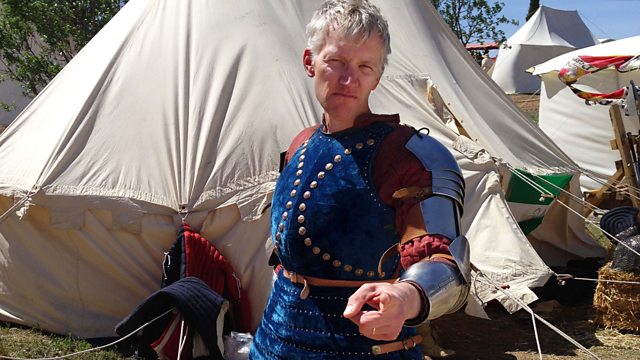 The Halifax Slasher - Forgotten Ship Burial
The Halifax Slasher
Making History listener Martin Coates contacted the programme to ask about a violent crime wave in West Yorkshire in the autumn of 1938. Who was the so-called "Halifax slasher" he asks?
Making History consulted local historian John Hargreaves who took reporter Nick Baker on a tour of the town to show him where the attacks happened. A number of attacks on men and women by a person with a knife or razor were reported in late November 1938. This how the Halifax Courier reported the case: "Halifax has certainly never had such a manhunt in its history and the hunt, generally is probably unparalleled since the days of the Jack the Ripper scare in London…."
Halifax police were assisted in their search by Scotland Yard until, eventually, one of the victims confessed to harming themselves. Others had similar admissions. The "Halifax slasher" was put down to a wave of mass hysteria. This is how the Halifax Courier reported the news… 'Carry on Halifax! The Slasher scare is over... The theory that a half-crazed, wild-eyed man has been wandering around, attacking helpless women in dark streets, is exploded... There never was, nor is there likely to be, any real danger to the general public. There is no doubt that following certain happenings public feeling has grown, and that many small incidents have been magnified in the public mind until a real state of alarm was caused. This assurance that there is no real cause for alarm, in short, no properly authenticated wholesale attacks by such a person as the bogy man known as the 'Slasher', should allay the public fear...'
The Forgotten Ship Burial
A few miles north of Sutton Hoo at Snape on the Suffolk coast are the remains of a ship burial that were first unearthed in 1862. Today, after 50 years of ploughing, very little is left of the site but what was found here informed the latter dig at Sutton Hoo in 1939 and provides rich insight into the misnamed Dark Ages.
Making History consulted William Filmer-Sankey who led a major dig at Snape and the early English specialist Dr Sam Newton.
Last on