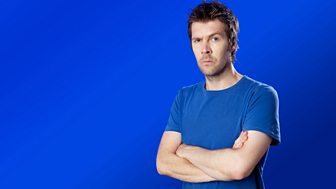 Rhod Gilbert
The comedian blends music, comedy, idle chat and a bit of banter with the listeners.
Contact the show:
Phone 03700 100 110 or text 81012 during the show
Email rhod.gilbert@bbc.co.uk at any time
NEW: Rhod's Rant Club
In these most testing of times, when everyone's as stressed as an octopus who's run out of underarm deodorant half way round, we all need somewhere to let off steam.
Rhod's Rant Club is his purpose-built whingefest.   A place where we can indulge our natural inclination to whinge without fear of people telling us to cheer up.
So what really gets your goat? Is your whinge the kind of material that should get on-air and perhaps be crowned our Rant of the Week?
Get in touch and tell us what's really bugging you - email rhod.gilbert@bbc.co.uk. Note the production team may get in touch with you before your Rant gets on air, to check a few details.
So don't just sit there stewing - get writing!
About the Rhod Gilbert show
The show has a reputation for excessively mindless banter, forthright and remarkably ill-informed opinion and decent music. Each week Rhod is aided and abetted by Chris Corcoran, along with the UK's hottest comedians who occasionally pop in for a chat. Guests have included Sarah Millican, Lloyd Langford, Elis James, Greg Davies, Rob Deering, Jarred Christmas, Eggsy from GLC, Ben Partridge and many more.  
Rhod says: "I love the spontaneity of the show ... I can do pretty much whatever I want so it tends to be just me, ranting, raving and chewing the fat about whatever comes into my head. Hopefully it comes out funny."
"I'm really lucky...I can choose all the music myself, so I don't play anything I don't like. It's a mix of indie, rock, pop, dance, electronic, new and old. I like introducing stuff I've heard on my travels so I play some tracks directly off my mp3 player and we try to play unusual stuff that listeners send in too. It's all fairly upbeat because it's Saturday morning and the show is fairly pacy."
"I'm a stand up comedian, so the show is focussed on the comedy, and I've broadcast from wherever I'm touring." So far the show has broadcast from Hong Kong, Bangkok, Melbourne, Jo'burg, Paris, Rome, the Edinburgh festival during Rhod's sell-out stints at the fringe, and even places as exotic as Sheffield