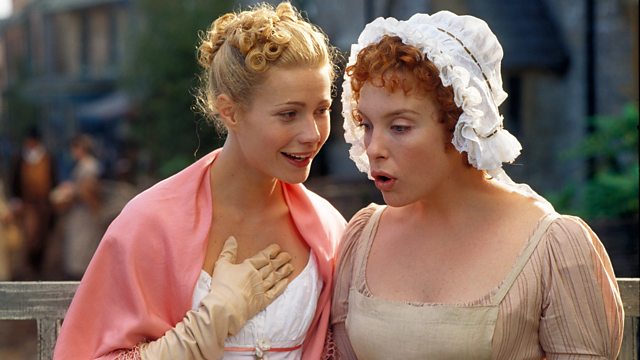 Emma
Adaptation of the Jane Austen classic about a privileged young woman's misguided attempts at matchmaking.
Wealthy and charming Emma Woodhouse is convinced she knows what is best for everyone's love lives. Having never been in love herself, she is naive about matters of the heart and is gently guided by the patient Mr Knightley, a family friend whom she regards as a brother. But when Emma falls for a newcomer to the village, the eligible bachelor Mr Churchill, she fails to recognise that her own true love may have been right before her eyes all along.
How long is Emma available on BBC iPlayer?
This programme is only on BBC iPlayer for 7 days after broadcast. We always aim to offer our programmes to stream for 30 days; however for a number of reasons including technical problems, legal or contractual issues this isn't always possible.
Credits
| Role | Contributor |
| --- | --- |
| Emma Woodhouse | Gwyneth Paltrow |
| Mr Knightley | Jeremy Northam |
| Frank Churchill | Ewan McGregor |
| Harriet Smith | Toni Collette |
| Rev Elton | Alan Cumming |
| Mrs Weston | Greta Scacchi |
| Mrs Elton | Juliet Stevenson |
| Jane Fairfax | Polly Walker |
| Miss Bates | Sophie Thompson |
| Mrs Bates | Phyllida Law |
| Mr Weston | James Cosmo |
| Mr Woodhouse | Denys Hawthorne |
| Director | Douglas McGrath |
| Producer | Steven Haft |
| Producer | Patrick Cassavetti |
| Writer | Douglas McGrath |
BBC Radio 4: Jane Austen collection