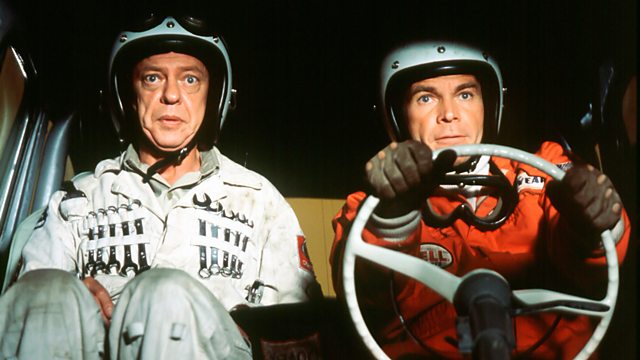 Herbie Goes to Monte Carlo
Third in the children's comedy Love Bug series, in which the irrepressible Beetle with a mind of its own takes part in a race from Paris to Monte Carlo, via the French Alps. Love complicates the plot when Herbie falls for a powder-blue Lancia called Giselle.
Plus jewel thieves have hidden a diamond in Herbie's petrol tank and are soon in hot pursuit.
BBC iPlayer - unavailable episode
This episode is not available on BBC iPlayer.  Programmes are unavailable for a number of reasons including legal, contractual or technical issues.
Credits
| Role | Contributor |
| --- | --- |
| Jim Douglas | Dean Jones |
| Wheely Applegate | Don Knotts |
| Diane Darcy | Julie Sommars |
| Quincey | Roy Kinnear |
| Inspector Bouchet | Jacques Marin |
| Max | Bernard Fox |
| Bruno von Stickle | Eric Braeden |
| Detective Fontenoy | Xavier Saint Macary |
| M Ribeaux | Francois Lalande |
| Emile | Alan Caillou |
| Duval | Laurie Main |
| Claude | Mike Kulcsar |
| Writer | Arthur Alsberg |
| Director | Vincent McEveety |