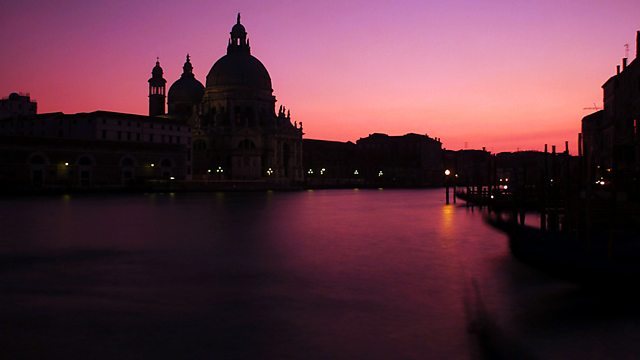 Francesco da Mosto continues his story of Venice with its most outrageous period of partying and licentiousness. This is the age of Casanova, the age of the courtesan - when Venice was the red-light district of Europe, attracting rich and hopeful dandies from across the continent.
Ostensibly the young men would come in search of art - and there was plenty for them, with Vivaldi, Canaletto and Canova at work in the city creating art on a scale never before seen. These were artists who responded directly to their public - Vivaldi churning out score after score as tourist-patrons demanded them, Canaletto painting the most upmarket postcards of the age for the growing number of rich visitors to the city, and Canova taking the human figure in marble to a level of perfection not seen since the time of Michelangelo.
Yet storm clouds were gathering and for the Venetians who saw them coming it could only seem as though the wrath of God was about to descend upon the city. The city had grown decadent and careless of its security. Guaranteed a safe haven for a thousand years by the hidden sandbanks of the lagoon, now new technology gave the enemies of Venice long-distance guns that could hit the city from beyond the shallows.
A new monster was rising in Europe - Napoleon Bonaparte, who saw Venice as rich pickings with which to fund his revolution. He would bring disaster to the city beyond any other it had known in its thousand-year history.
Last on
Credits
| Role | Contributor |
| --- | --- |
| Presenter | Francesco da Mosto |
| Producer | Sam Hobkinson |
| Executive Producer | Basil Comely |