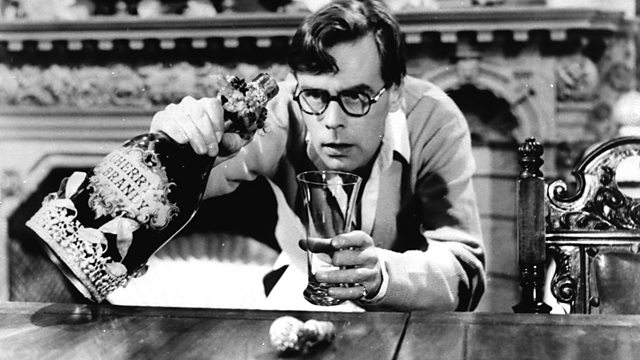 Lucky Jim
Comedy about a well-intentioned junior history professor in an undistinguished university. Hoping to impress the new chancellor, he succeeds only in messing up everything he touches.
Based on the satirical novel by Kingsley Amis.
BBC iPlayer - Lucky Jim
This programme is only on BBC iPlayer for 7 days after broadcast, and cannot be downloaded, only streamed. We always aim to offer our programmes to stream and download for 30 days; however for a number of reasons including technical problems, legal or contractual issues this isn't always possible.
Credits
| Role | Contributor |
| --- | --- |
| Jim Dixon | Ian Carmichael |
| Bertrand Welch | Terry-Thomas |
| Professor Welch | Hugh Griffith |
| Christine Callaghan | Sharon Acker |
| Mrs Welch | Jean Anderson |
| Margaret Peel | Maureen Connell |
| Sir Hector Gore-Urquhart | Clive Morton |
| The Principal | John Welsh |
| University Porter | Reginald Beckwith |
| Cyril Johns | Kenneth Griffith |
| Bill Atkinson | Jeremy Hawk |
| Roberts | John Cairney |
| Director | John Boulting |
| Director | Roy Boulting |
| Producer | Roy Boulting |
| Writer | Patrick Campbell |
| Writer | Jeffrey Dell |
| Author | Kingsley Amis |