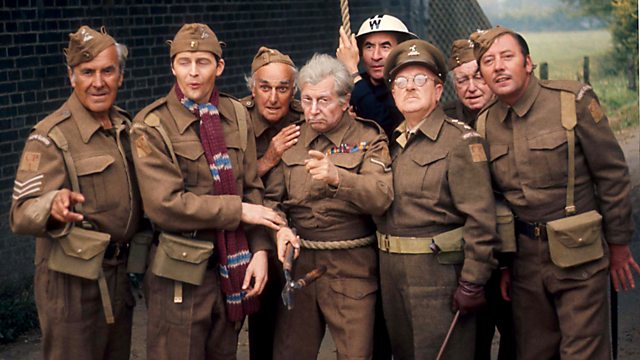 Classic sitcom about the Home Guard unit of Walmington-on-Sea. Capt. Mainwaring receives a challenge from the Chief Warden to play his platoon at cricket. A team is mustered including Sgt Wilson, who is something of an all-rounder. L/Cpl Jones volunteers to keep the wicket. But, unbeknownst to Mainwaring, the wardens have signed up EC Egan who, were it not for the war, would be bowling for England.
Featuring a guest appearance by English cricket legend Fred Trueman.
Last on
How close to reality was the depiction of the Home Guard in the series Dad's Army?
Credits
| Role | Contributor |
| --- | --- |
| Captain Mainwaring | Arthur Lowe |
| Sgt Wilson | John Le Mesurier |
| Pte Frazer | John Laurie |
| Pte Walker | James Beck |
| Pte Godfrey | Arnold Ridley |
| Pte Pike | Ian Lavender |
| ARP Warden | Bill Pertwee |
| Vicar | Frank Williams |
| Verger | Edward Sinclair |
| Gerald | Don Estelle |
| Mr Blewitt | Harold Bennett |
| L/Cpl Jones | Clive Dunn |
| EC Egan | Fred Trueman |
| Producer | David Croft |
| Writer | Jimmy Perry |
| Writer | David Croft |
How Captain Mainwairing and Sgt Wilson got called up