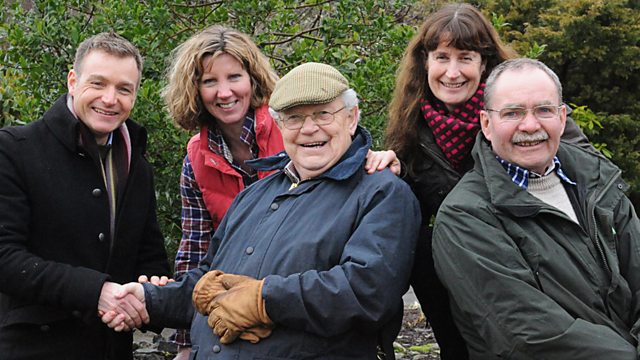 Water, water everywhere and not a drop to drink. In the Beechgrove garden it's a pond special this week.
Jim, Carole and Lesley are all in their waders sorting out three of the ponds in Beechgrove. Jim takes on the main pond which is full of blanket weed, tadpoles and has a dodgy pump. The rustic bridge over the pond in Garden for Life has finally disintegrated and so Lesley installs an easy to construct new bridge for this wildlife pond. Carole is hunting pond snails again and takes the water hawthorn out of it's imposed quarantine before putting the pond in the Silver Garden back together again.
Carole also visits Julia Parrish at Dulnain Bridge, who is very keen on growing vegetables and has just erected a modest polytunnel for that purpose but doesn't know how best to start off. Carole helps her fill it with great things to grow and eat.
Gardening Scotland is coming up and The Royal Botanic Gardens in Edinburgh (RBGE) are creating a spectacular exhibit for the show. Jim takes a trip to RBGE to see how work is progressing on the display, called Gardening the Earth, which will be a unique display featuring some of the many exotic and endangered plants held in RBGE's collection.
Last on