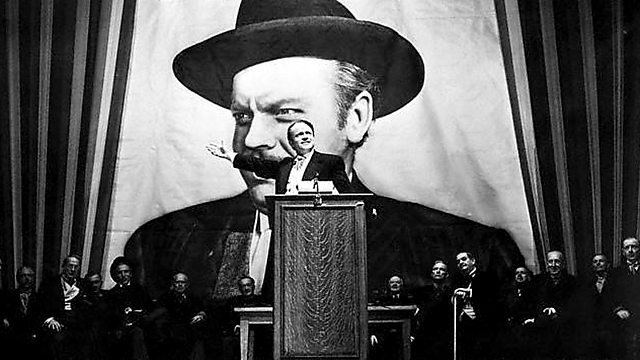 Citizen Kane
Frequently voted one of the best films ever made, Orson Welles's masterpiece tells the story of newspaper magnate Charles Foster Kane in a series of flashbacks. A reporter is intrigued by the dying Kane's last word - rosebud - and sets out to find a new angle on the life of one of the most powerful men in America. Nine Oscar nominations resulted in only one award for the outspoken Welles - Best Screenplay.
The Soundtrack
The orchestral score for this film is by Bernard Herrmann, a celebrated composer who went on to forge a great relationship with Alfred Hitchcock, writing the scores for Vertigo and the infamous Psycho.
In his BBC Four series Sound of Cinema: The Music That Made the Movies, Neil Brand describes how Herrmann's music for the opening scene - which sees us close in on Kane in his deathbed - makes us care about a character we've barely met.
You can find out more about the great orchestral score in episode one of Neil Brand's series.
Citizen Kane will be shown on BBC Four as part of the Sound of Cinema season on Sunday 22nd September.
Credits
| Role | Contributor |
| --- | --- |
| Charles Foster Kane | Orson Welles |
| Director | Orson Welles |
| Kane | Orson Welles |
| Jedediah Leland | Joseph Cotten |
| Mr. Bernstein | Everett Sloane |
| Mary Kane | Agnes Moorehead |
| James W Gettys | Ray Collins |
| Susan Alexander | Dorothy Comingore |
| Mr Bernstein | Everett Sloane |
| Susan Alexander Kane | Dorothy Comingore |
| Kane's father | Harry Shannon |
| Walter Parks Thatcher | George Coulouris |
| Raymond | Paul Stewart |
| Kane's mother | Agnes Moorehead |
| Emily Norton | Ruth Warrick |
| Kane III | Sonny Bupp |
| Director | Orson Welles |
| Kane (aged 8) | Buddy Swan |
| Producer | Orson Welles |
| Writer | Herman J Mankiewicz |
| Herbert Carter | Erskine Sanford |
| Mr. Rawlston | Philip Van Zandt |
| Writer | Herman J Mankiewicz |