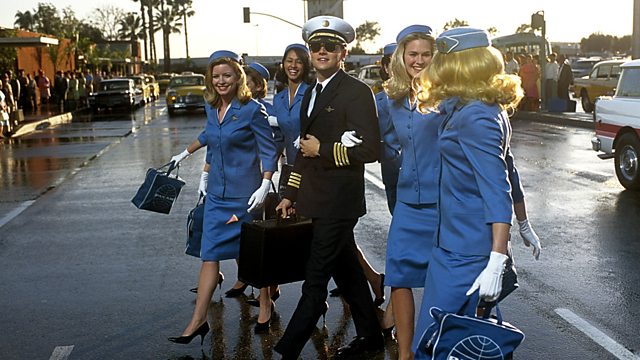 Catch Me if You Can
Amazing true crime story about teenage con man Frank Abagnale Jr who cashed fake cheques worth over 2.5 million dollars while disguised as a pilot, a doctor and a lawyer - and the FBI agent who is determined to catch him.
Catch Me If You Can on BBC iPlayer
This programme is only on BBC iPlayer for 7 days after broadcast, and cannot be downloaded, only streamed. We always aim to offer our programmes to stream and download for 30 days; however for a number of reasons including technical problems, legal or contractual issues this isn't always possible.
Review: Catch Me If You Can
"After the philosophical constipation of A.I. and pseudo-seriousness of Minority Report, Steven Spielberg rediscovers his sense of fun with this funny, frivolous con caper."
Credits
| Role | Contributor |
| --- | --- |
| Frank Abagnale Jr | Leonardo DiCaprio |
| Carl Hanratty | Tom Hanks |
| Frank Abagnale | Christopher Walken |
| Roger Strong | Martin Sheen |
| Paula Abagnale | Nathalie Baye |
| Brenda Strong | Amy Adams |
| Jack Barnes | James Brolin |
| Earl Amdursky | Brian Howe |
| Tom Fox | Frank John Hughes |
| Paul Morgan | Steve Eastin |
| Special Agent Witkins | Chris Ellis |
| Assistant Director Marsh | John Finn |
| Cheryl Ann | Jennifer Garner |
| Lucy | Elizabeth Banks |
| Miggy | Amy Acker |
| Writer | Jeff Nathanson |
| Director | Steven Spielberg |
| Author | Frank W Abagnale |
| Author | Stan Redding |
| Producer | Walter F Parkes |
| Producer | Steven Spielberg |
| Composer | John Williams |
| Director of photography | Janusz Kaminski |