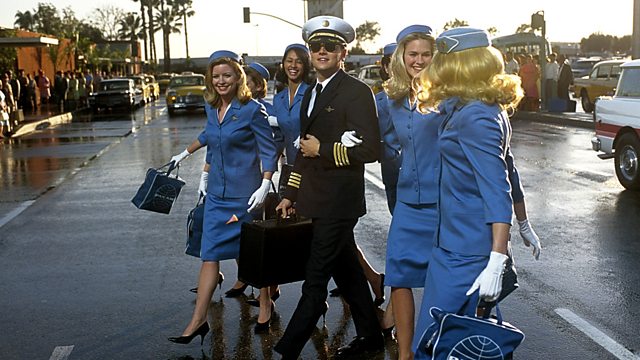 Catch Me if You Can
Steven Spielberg movie based on a true story.
When high school student Frank Abagnale Jr's parents get a divorce, he is devastated and runs away with just $25 in a checking account. Determined to get back the money his destitute father owes the IRS, he starts cashing false cheques - and pretty soon has cashed well over a million dollars and begun impersonating airline pilots. He is soon the subject of a worldwide manhunt led by the FBI's Carl Hanratty, who is determined to get his man.
Review: Catch Me If You Can
"After the philosophical constipation of A.I. and pseudo-seriousness of Minority Report, Steven Spielberg rediscovers his sense of fun with this funny, frivolous con caper."
Credits
| Role | Contributor |
| --- | --- |
| Frank Abagnale Jr | Leonardo DiCaprio |
| Carl Hanratty | Tom Hanks |
| Frank Abagnale | Christopher Walken |
| Roger Strong | Martin Sheen |
| Paula Abagnale | Nathalie Baye |
| Director | Steven Spielberg |
| Brenda Strong | Amy Adams |
| Jack Barnes | James Brolin |
| Earl Amdursky | Brian Howe |
| Tom Fox | Frank John Hughes |
| Paul Morgan | Steve Eastin |
| Special Agent Witkins | Chris Ellis |
| Assistant Director Marsh | John Finn |
| Cheryl Ann | Jennifer Garner |
| Lucy | Elizabeth Banks |
| Miggy | Amy Acker |
| Writer | Jeff Nathanson |
| Author | Frank W Abagnale |
| Author | Stan Redding |
| Producer | Walter F Parkes |
| Producer | Steven Spielberg |
| Composer | John Williams |
| Director of photography | Janusz Kaminski |