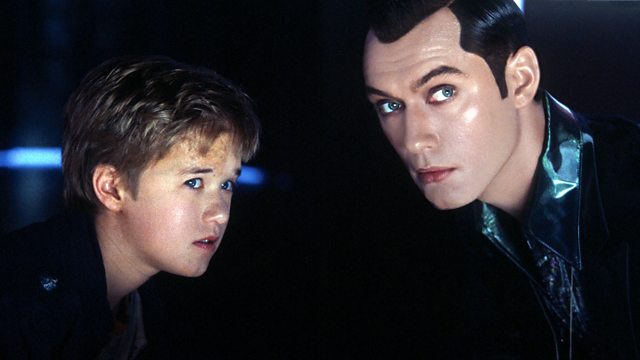 AI: Artificial Intelligence
Futuristic version of Pinocchio, featuring David, a highly advanced robotic boy who hopes to become a real boy so that he can win back the affection of the human mother who abandoned him. He goes on an odyssey through a violent, dystopian world in a quest for the Blue Fairy and encounters the horrors of the Flesh Fair and meets a 'pleasure' robot - Gigolo Joe, who helps David on his quest.
Based upon a short story by acclaimed science fiction writer Brian Aldiss and a treatment by director Stanley Kubrick.
AI: Artificial Intelligence on BBC iPlayer
This programme is not available on BBC iPlayer. We always aim to offer our programmes to stream and download for 30 days; however for legal or rights reasons this isn't always possible.
Credits
| Role | Contributor |
| --- | --- |
| David | Haley Joel Osment |
| Gigolo Joe | Jude Law |
| Monica Swinton | Frances O'Connor |
| Lord Johnson-Johnson | Brendan Gleeson |
| Professor Hobby | William Hurt |
| Director | Steven Spielberg |
| Henry Swinton | Sam Robards |
| Martin Swinton | Jake Thomas |
| Syatyoo-Sama | Ken Leung |
| Supernerd | Clark Gregg |
| Supernerd | Kevin Sussman |
| Sheila | Sabrina Grdevich |
| Todd | Theo Greenly |
| Sentient Machine Security | Diane Fletcher |
| Writer | Steven Spielberg |
| Author | Brian Aldiss |
| Producer | Bonnie Curtis |
| Producer | Kathleen Kennedy |
| Producer | Steven Spielberg |