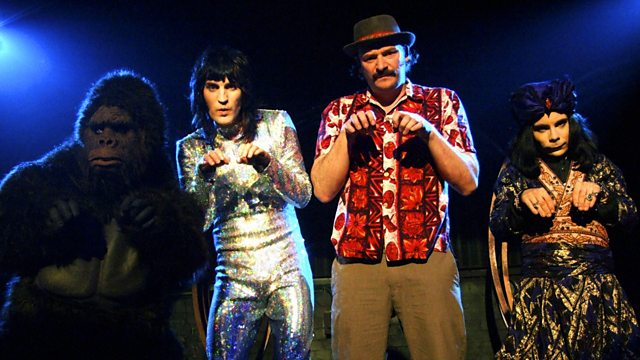 The Legend of Old Gregg
Following a somewhat poorly received gig, the boys decide to skip town for a bit. They take in a spot of fishing on Black Lake where, angry at Vince's fishing success, Howard sends him back to the local pub.
Whilst Vince swaps tales with the locals at the King Prawn's Head, Howard is abducted by Old Gregg, the eerie merman who haunts the lake's waters.
He has some issues.
Last on
Credits
| Role | Contributor |
| --- | --- |
| Howard Moon | Julian Barratt |
| Vince Noir | Noel Fielding |
| Naboo the Enigma | Michael Fielding |
| Bollo the Ape | Dave Brown |
| Old Gregg | Noel Fielding |
| Ramsey | Rich Fulcher |
| Colin | James Bachman |
| Lucien | Julian Barratt |
| Old Mr Hopkins | John Hopkins |
| The Moon | Noel Fielding |
| Neville Brother | Olly Ralfe |
| Ramsey's Wife | Dee Plume |
| Writer | Julian Barratt |
| Writer | Noel Fielding |
| Music | Julian Barratt |
| Associate Producer | Julian Barratt |
| Associate Producer | Noel Fielding |
| Producer | Spencer Millman |
| Director | Paul King |
| Executive Producer | Steve Coogan |
| Executive Producer | Henry Normal |
| Executive Producer | Alison MacPhail |
Buy online
Buy online
Available on: DVD or Video download
From suppliers including: BBC Shop, iTunes