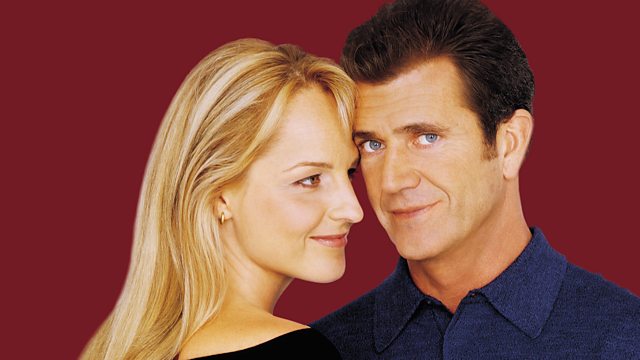 What Women Want
Romantic comedy about a chauvinistic advertising executive who acquires the ability to hear what women are thinking, attempting to use this power to bring about the fall of his female boss. But as he uses this inside knowledge to outwit his superior, the bachelor begins to fall in love with her, and so finds himself feeling more than a little guilty when his plan to have her sacked looks like it may come to fruition.
How long is What Women Want available on BBC iPlayer?
This programme is only on BBC iPlayer for 7 days after broadcast. We always aim to offer our programmes to stream for 30 days; however for a number of reasons including technical problems, legal or contractual issues this isn't always possible.
Credits
| Role | Contributor |
| --- | --- |
| Nick Marshall | Mel Gibson |
| Darcy McGuire | Helen Hunt |
| Lola | Marisa Tomei |
| Dan Wanamaker | Alan Alda |
| Alex Marshall | Ashley Johnson |
| Morgan Farwell | Mark Feuerstein |
| Gigi | Lauren Holly |
| Dr JM Perkins | Bette Midler |
| Eve | Delta Burke |
| Margo | Valerie Perrine |
| Erin the File Girl | Judy Greer |
| Annie | Sarah Paulson |
| Sue Cranston | Ana Gasteyer |
| Dina | Lisa Edelstein |
| Flo the Doorwoman | Loretta Devine |
| Stella | Diana Maria Riva |
| Producer | Gina Matthews |
| Producer | Bruce Davey |
| Producer | Susan Cartsonis |
| Producer | Nancy Meyers |
| Director | Nancy Meyers |