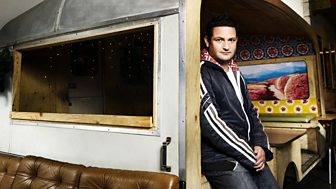 Chris Hawkins
Chris Hawkins starts your day with a mix of the best new music, forgotten classics and session tracks from the BBC archive seven days a week.
Chris Hawkins discusses how BBC 6 Music's Alternative Jukebox came into being.
The Early Show Seaside Tour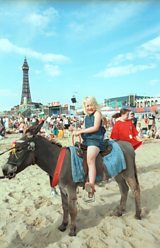 This summer the Early Show is undertaking a virtual tour of British seaside towns. From Rhyl to Mull and Tenby to Barnstaple.
Every weekday morning Hawk Tours will 'stop off' at a different seaside town and play a song that mentions the town.
All you need to do is find songs that mention the towns in their lyrics AND send us your summer holiday photos - especially if they are of the towns we'll be visiting. Chris will post one of your pictures each morning on social media.
Send your holiday snaps by email to chris.6music@bbc.co.uk.
Check out the Hawk Tours Seaside Itinerary:
Rhyl - Anglesey - Aberystwyth - Tenby - Weston Super mare - Barnstaple - Salcombe - Torquay - Southsea- Brighton - Folkestone - Margate - Southend - Clacton - Great - Yarmouth - Skegness - Scarborough - Stonehaven - Wick - Skye - Mull - Ayr - Whitehaven - Douglas, isle Of Man - Blackpool
RHYL: Catatonia - International Velvet
ANGLESEY: Super Furry Animals - Liberty Belle
ABERYSTWYTH: Paper Aeroplanes - Aberystwyth
TENBY: Kate Bush - Delius (Song Of Summer)
WESTON SUPER MARE: Fluke - Tosh
BARNSTAPLE: Jeremy Taylor - Belle of Barnstaple
SALCOMBE - Show Of Hands - Undertow
TORQUAY - Donovan - Mad John's Escape
SOUTHSEA - Blueboy - Jennifer Yeah!
BRIGHTON - Fatboy Slim - You're Not From Brighton
FOLKESTONE - Jack Pound - Folkestone Moon
MARGATE - Terrorvision - In Your Shoes
SOUTHEND - The Kinks - Picture Book
CLACTON - Bonzo Dog Doo Dah Band - Rhinocratic Oaths
GREAT YARMOUTH - Bison - Big Trouble In Great Yarmouth
SKEGNESS - The Fall - Pittsville Direkt
SCARBOROUGH - Simon & Garfunkel - Scarborough Fair
STONEHAVEN - Colin Clyne - Stonehaven Radio Station And Me
WICK - Half Man Half Biscuit - RSVP
SKYE - The Proclaimers - A Letter From America
MULL - Mull Historical Society - Mull Historical Society
AYR - New Celeste - The Banks Of Ayr
WHITEHAVEN - The Handsome Family - Whitehaven
DOUGLAS - Kate Bush - Moments of Pleasure
BLACKPOOL - Jethro Tull - Up The Pool