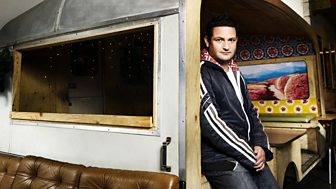 Chris Hawkins
Chris Hawkins starts your day with a mix of the best new music, forgotten classics and session tracks from the BBC archive seven days a week.
Chris Hawkins discusses how BBC 6 Music's Alternative Jukebox came into being.
THE LITTLE MISS MISSION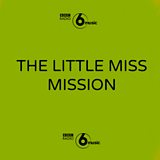 THE LITTLE MISS MISSION
It's the Early Show search for the ultimate list of songs mentioning every character in the Little Miss series.
Songs might include Cyndi Lauper's 'Girls Just Want to Have FUN', The Beatles' 'Good Day SUNSHINE' or James' 'She's A STAR'.
*THE 'LITTLE MISS MISSION' HAS NOW ENDED*
LITTLE MISS: Edie Brickell & New Bohemians - Little Miss S
BAD: George Thorogood And The Destroyers - Bad To The Bone
BOSSY: Laurie Anderson - Babydoll
BRAINY: The National - Brainy
BUSY: Marvin Gaye - Too Busy Thinkin' About My Baby
CHATTERBOX: New York Dolls - Chatterbox
CONTRARY: Can - Mary, Mary, So Contrary
CURIOUS: Sparks - How Are You Getting Home?
DOTTY: Danny & The Juniors - Dottie
FICKLE: Fairport Convention - Who Knows Where The Time Goes
FUN: Beach Boys - Fun, Fun, Fun
GIGGLES: Clash - Julie's Been Working For The Drug Squad
GREEDY: Alt J - Fitzpleasure
HELPFUL - The Futureheads - Thursday
HUG: Saint Etienne - Hug My Soul
LATE: Carole King - It's Too Late
LUCKY: The Verve - Lucky Man
MAGIC: Super Furry Animals - God Show Me Magic
NAUGHTY: The Shamen - Ebeneezer Good
NEAT: The Damned - Neat, Neat, Neat
PRINCESS: Loudon Wainwright III - East Indian Princess
QUICK: Foster The People - Pumped Up Kicks
SCARY: David Bowie - Scary Monsters (and Super Creeps) 
SCATTERBRAIN: Radiohead - Scatterbrain (As Dead As Leaves)
SHY: Ani DiFranco - Shy
SOMERSAULT: Zero 7 (feat. Sia) - Somersault
SPLENDID: Warren Zevon - Splendid Isolation
STAR: James - She's a Star
STUBBORN: Marvin Gaye - Stubborn Kind Of Love
SUNSHINE: Roy Ayers - Everybody Loves The Sunshine
TIDY: The Dubwood Allstars - Under Dubwood
TINY: Elton John - Tiny Dancer
TROUBLE: Adam And The Ants - Car Trouble
TWINS: Carter The Unstoppable Sex Machine - Twin Tub
TWINS: The Cure - Siamese Twins
WHOOPS: Billy Bragg - Greetings To The New Brunette
WISE: Elvis Presley - Can't Help Falling In Love
MR MEN MUSICAL MISSION
MR: The Fall – Mr. Pharmacist 
BOUNCE: Rachael Dadd - Bounce The Ball 
BRAVE: Giorgio Moroder/Phil Oakey - Together In Electric Dreams
BUMP: Kenny - The Bump
BUSY: Adam & The Ants - Family Of Noise
CHATTERBOX: Bob Marley & The Wailers - Mr Chatterbox
CHEERFUL: Ian Dury & The Blockheads - Reasons To Be Cheerful
CLEVER: Ian Dury & The Blockheads - Clever Trevor
CLUMSY: The Smiths - Half A Person
COOL: Boney M - Daddy Cool
CHRISTMAS: Low - Just Like Christmas
DAYDREAM: The Monkees - Daydream Believer 
DIZZY: Vic Reeves/Wonder Stuff - Dizzy
FORGETFUL: Cocteau Twins - Pur
FUNNY: Airhead - Funny How
FUSSY: Rory Gallagher - Calling Card  
GOOD: Chic - Good Times
GREEDY: Go Kart Mozart - We're Selfish, Lazy and Greedy
GRUMBLE: Chas & Dave - Musn't Grumble
GRUMPY: The Fiery Furnaces - Borneo
HAPPY: Altered Images - Happy Birthday
IMPOSSIBLE: Carter The Unstoppable Sex Machine - The Impossible Dream 
JELLY: The Flaming Lips - She Don't Use Jelly
LAZY: Deep Purple - Lazy
MEAN: David Bowie - Heroes
MESSY: Spencer Davis Group - I'm A Man
MISCHIEF: The Joy Formidable - Austere
MISERABLE: The Smiths - Heaven Knows I'm Miserable Now  
MUDDLE: Ella Fitzgerald - Have Yourself A Merry Little Christmas
NOBODY: Louis Prima - Just A Gigolo/I Ain't Got Nobody
NOISY: Reverend & The Makers - Noisy Neighbour
NONSENSE: Squeeze - Annie Get Your Gun
NOSEY: Bull Moose Jackson - Nosey Joe 
PERFECT: The The - Perfect
QUIET: Japan - Quiet Life
RUDE: The Smiths - Frankly, Mr Shankly
RUSH: Depeche Mode - Rush
SILLY: The Lightning Seeds - Change
SKINNY: Bon Iver - Skinny Love
SLOW: The The - Slow Train To Dawn
SMALL: Suzanne Vega - Small Blue Thing
SNEEZE: The Divine Comedy - The Pop Singer's Fear Of The Pollen Count
SNOW: Kate Bush - 50 Words For Snow
STRONG: Alice Cooper - Hello Hurray
TALL: XTC - Ten Feet Tall
TICKLE: Squeeze - Slap and Tickle
TOPSY-TURVY: Natalie Merchant - Topsy Turvy World
UPPITY: Half Man Half Biscuit - Breaking News
WORRY: Bobby McFerrin - Don't Worry, Be Happy
WRONG: Depeche Mode - Wrong
Presenter Chris 'The Hawk' Hawkins challenges his listeners to help him compile the ultimate list of songs mentioning every state in the USA, all 50 of them!
ALABAMA - Lynyrd Skynyrd - Sweet Home Alabama
ALASKA - Michelle Shocked - Anchorage
ARIZONA - The Beatles - Get Back
ARKANSAS - Bruce 'The Boss' Springsteen - Mary Queen Of Arkansas
CALIFORNIA - The Mamas And The Papas - California Dreamin'
COLORADO - John Denver - Rocky Mountain High
CONNECTICUT - Ben Folds - Kylie From Connecticut
DELAWARE - Faithless - Postcards
FLORIDA - Modest Mouse - Florida
GEORGIA - Ray Charles - Georgia On My Mind  
HAWAII - Elvis Presley - Blue Hawaii
IDAHO - B52's - Private Idaho
IIIINOIS - Sufjan Stevens - The Man Of Metropolis Steals Our Hearts
INDIANA - R Dean Taylor - Indiana Wants Me
IOWA - Til Tuesday - Coming Up Close
KANSAS - The Wolfgang Press - Kansas
KENTUCKY - The Soggy Bottom Boys - I Am A Man Of Constant Sorrow
LOUISIANA - Red Hot Chili Peppers - Dani California
MAINE - Jonathan Richman And The Modern Lovers - New England
MARYLAND - Jesus Jones - Maryland
MASSACHUSETTS - Bee Gees - Massachusetts
MICHIGAN - Devendra Banhart - Michigan State
MINNESOTA - Weird Al Yankovic - The Biggest Ball Of Twine In Minnesota
MISSISSIPPI - Lissie - Oh Mississippi
MISSOURI - Depeche Mode - Route 66
MONTANA - Frank Zappa - Montana
NEBRASKA - The Decemberists - Calamity Song
NEVADA - The Jayhawks - Nevada, California
NEW HAMPSHIRE - Sonic Youth - New Hampshire
NEW JERSEY - Pixies - Monkey's Gone To Heaven
NEW MEXICO - The Dandy Warhols - The Legend Of The Last Of The Outlaw Truckers Aka The Ballad Of Sheriff Shorty  
NEW YORK - Bobbie Gentry - Fancy
NORTH CAROLINA - Joan Baez - East Virginia
NORTH DAKOTA - Tom Waits - Had Me A Girl
OHIO - Crosby, Stills, Nash & Young - Ohio  
OKLAHOMA - Throwing Muses - Dizzy
OREGON - Loretta Lynn & Jack White - Portland Oregon
PENNSYLVANIA - Glenn Miller - Pennsylvania 65000
RHODE ISLAND - Ike & Tina Turner - Sweet Rhode Island Red
SOUTH CAROLINA - Gram Parsons - Hickory Wind
SOUTH DAKOTA - Bob Dylan - Ballad Of Hollis Brown
TENNESSEE - Arrested Development - Tennessee
TEXAS - The Hold Steady - Sequestered In Memphis
UTAH - Utah Saints - Something Good
VERMONT - Captain Beefheart - Moonlight On Vermont
VIRGINIA - Laurel & Hardy - The Trail Of The Lonesome Pine
WASHINGTON - Pixies - Trompe Le Monde
WEST VIRGINIA - John Denver - Take Me Home Country Roads
WISCONSIN - Bon Iver - Wisconsin
WYOMING - Damien Jurado - Wyoming        
*MASSIVE THANK YOU FOR ALL YOUR SUGGESTIONS* 
The 6 Music Early Show launches 'Home Team Glory: World Cup 2014 Special' with presenter Chris Hawkins challening his listeners to help him compile the ultimate list of songs mentioning every team in the competition. 
Not a football fan? No problem - this is just as much about place names in song. 
Songs could include, Springsteen's 'Born In The USA', Arcade Fire's 'Brazil' or Manic Street Preachers 'Australia'. 
Find out how you can get involved here. 
Home Team Glory has already found songs to acknowledge every football club in the Premier League, Scottish Premiership, English Championship, League 1 and League 2.
Here's where we're at so far:
WORLD CUP 2014 SPECIAL
ALGERIA - Sloan - Penpals
ARGENTINA - Suede - My Dark Star
AUSTRALIA - The Kinks - Victoria
BELGIUM - Farm - All Together Now
BOZNIA HERZEGOVINA - Todd Rundgren - If Not Now When?
BRAZIL - Sultans Of Ping FC - Kick Me With Your Leather Boots
CAMEROON - Buju Banton - African Pride
CHILE - Cat Power - Ruin
COLOMBIA - Kirsty MacColl - England 2 Colombia 0
COSTA RICA - Saint Etienne - Girl VII
CROATIA - U.S.Bombs - Croatia Breaks
ECUADOR - Sash - Ecuador
ENGLAND - Billy Bragg - A New England
FRANCE - John Cale - Half Past France
GERMANY - Sparks - Girl From Germany
GHANA - Dorothy Masuka - Ghana
GREECE - The Rolling Stones - Laugh, I Nearly Died
HONDURAS - Warren Zevon - Lawyers, Guns And Money
IRAN - Steve Earle - Good Ol' Boy (Gettin' Tough)
ITALY - PJ Harvey - Good Fortune
IVORY COAST - Turin Brakes - Bye Pod
JAPAN - Tom Waits - Big In Japan
MEXICO - The Coasters - Down In Mexico
NETHERLANDS - Steely Dan - Slang Of Ages
NIGERIA - Third World - Lagos Jump
PORTUGAL - Baxter Dury - Isabel
RUSSIA - The Sisters Of Mercy - Dominion / Mother Russia
SOUTH KOREA - Billy Joel - We Didn't Start The Fire
SPAIN -  Doors - Spanish Caravan
SWITZERLAND - Feeder - Cement
URUGUAY - Serge Gainsbourg - S. S. in Uruguay
USA - Bruce Springsteen - Born in the USA
PREMIER LEAGUE  
ARSENAL – Winter Of '79 by the Tom Robinson Band
ASTON VILLA – The Sun Never Sets On Aston Villa by Spizzenergi
CARDIFF – Cardiff In The Sun by the Super Furry Animals
CHELSEA – Chelsea Morning by Judy Collins
CRYSTAL PALACE – Winter by Tori Amos
EVERTON – People Ghetto Song - Everton Blender  
FULHAM FC - Ian Dury - What A Waste 
HULL CITY - Chumbawumba - Hull or Hell 
LIVERPOOL - The Mighty Wah - Heart As Big As Liverpool 
MAN CITY - The Jam - In The City 
MAN UTD - Fun Boy Three - We're Having All The Fun
NEWCASTLE - It's Immaterial - Driving Away from Home 
NORWICH - Tears For Fears - Schrodinger's Cat
SOUTHAMPTON - The Beatles - The Ballad Of John & Yoko
STOKE - Public Service Broadcasting - Night Mail
SUNDERLAND - The Streets - Trust Me
SWANSEA - John Cale - Ship Of Fools
TOTTENHAM - Chas And Dave - Gertcha
WEST BROM - Go Kart Mozart - West Brom Blues
WEST HAM - The Cockney Rejects - Police Car
SCOTTISH PREMIERSHIP
ABERDEEN - Joe Strummer And The Mescaleros - Arms Aloft
CELTIC - Rod Stewart - You're In My Heart
DUNDEE UNITED - The Dubliners - Dundee Weaver / Sham 69 - If The Kids Are United
HEARTS - Candi Staton - Young Hearts Run Free
HIBERNIAN - The Proclaimers - Joyful Kilmarnock Blues
INVERNESS - The Shirehorses - (Now) I Know (Where I'm Going) Our Kid
KILMARNOCK - Johnny Flynn - The Mountain Is Burning
MOTHERWELL - The Fiery Furnaces - Sullivan's Social Slub
PARTICK THISTLE - Carter The Unstoppable Sex Machine - Do Re Me, So Far So Good
ROSS COUNTY - The Fall - Hurricane Edward
ST JOHNSTONE - Richard Thompson - Bonnie St Johnstone
ST MIRREN - The Beat - Mirror In The Bathroom (Shaun Keaveny Version) 1st FAIL
CHAMPIONSHIP
BARNSLEY - John Shuttleworth - She Lives In Hope
BIRMINGHAM - Electric Light Orchestra - Birmingham Blues
BLACKBURN - Seven - Blackburn
BLACKPOOL - The Kinks - Autumn Almanac
BOLTON WANDERERS - Planningtorock - Bolton Wanderer
AFC BOURNEMOUTH - The Fall - Bournemouth Runner
BRIGHTON & HOVE ALBION - Elastica - Brighton Rock
BURNLEY - The Pendle Folk - Old Pendle
CHARLTON - Stump - Charlton Heston
DERBY COUNTRY - Erland And The Carnival - The Derby Ram
DONCASTER ROVERS - The Courteeners - The Opener
HUDDERSFIELD TOWN - Iron Maiden - Sheriff of Huddersfield
IPSWICH TOWN - Jarvis Cocker - From a to i
LEEDS UNITED - Amanda Palmer - Leeds United
LEICESTER CITY - Saint Etienne - He's On The Phone
MIDDLESBROUGH - The Wedding Present - Cumberland Gap
MILLWALL - Half Man Half Biscuit - Uffington Wassail
NOTTINGHAM FOREST - Rudi London - Nottingham Forest Is My Rock N Roll
QUEENS PARK RANGERS - Pete Townshend - White City Fighting
READING - William Bell - A Tribute To A King
SHEFFIELD WEDNESDAY - Gomez - Whippin' Piccadilly / Flight Of The Conchords - Business Time
WATFORD - The Orb/Alan Parker - Grey Clouds 
WIGAN - Houghton Weavers - Ballad of Wigan Pier
YEOVIL - The Chesterfields - Last Train To Yeovil
LEAGUE ONE
BRADFORD - Mott The Hoople - All The Way To Memphis
BRENTFORD - Burning Spear - As It Is
BRISTOL CITY - Fink - Wheels
CARLISLE - Little Comets - One Night In October
COLCHESTER - Kinky Machine - Christopher
COVENTRY - Elvis Costello & The Attractions - Luxembourg
CRAWLEY - The Who - Boris The Spider
CREWE - Richard & Linda Thompson - The Little Beggar Girl
GILLINGHAM - The Singing Loins - Ascending Chatham Hill
LEYTON ORIENT - Drive By Truckers - Plastic Flowers On The Highway / Elton John - The Scaffold
MK DONS / MILTON KEYNES - Kirsty MacColl - Still Life
NOTTS COUNTY - Glen Campbell - Wichita Lineman / Pete & The Pirates - Knots
OLDHAM - The Clint Boon Experience - Presley On Oldham Street
PETERBOROUGH - Barenaked Ladies - Peterborough And The Kawarthas
PORT VALE - Little Feat - Vale of Tears / David Bowie - Amsterdam
PRESTON - Doves - Kingdom Of Rust
ROTHERHAM - Arctic Monkeys - Fake Tales Of San Francisco
SHEFFIELD UNITED - The Clash - This Is England / Pete & The Pirates - United
SHREWSBURY - The Gaslight Anthem - Wooderson
STEVENAGE - Morrissey - Maladjusted
SWINDON - XTC - Red Brick Dream
TRANMERE - Richard Digance - Earl's A Winger
WALSALL - Spirit Of The West - The Hammer & The Bell
WOLVES - Dexy's Midnight Runners - My Life In England [Part 1]
LEAGUE TWO
ACCRINGTON STANLEY - The Waterboys - Burlington Bertie And Accrington Stanley
BRISTOL ROVERS - Van Morrison - Summertime In England / The Pogues - Irish Rover
BURTON - Terry Hall - I Drew A Lemon  
BURY - Joanna Newsom - Sadie
CHELTENHAM -  The Monochrome Set - The Ruling Class
CHESTERFIELD - Tom Waits - Swordfishtrombone
DAGENHAM & REDBRIDGE - Morrissey - Dagenham Dave / Sam Hagar - Bad Motor Scooter
EXETER - Frank Turner - I Am Disappeared
FLEETWOOD - The Liverpool Scene - I've Got These Fleetwood Mac Chicken Shack John Mayall Can't Fail Blues
HARTLEPOOL - Darren Hayman - Who Hung The Monkey
MANSFIELD - Sigue Sigue Sputnik - Hey Jane Mansfield Superstar!
MORECAMBE - Squeeze - Christmas Day
NEWPORT - Woody Guthrie - Baltimore To Washington
NORTHAMPTON - Graham Coxon - Running For Your Life
OXFORD - Bob Dylan - Oxford Town
PLYMOUTH - The Barracudas - Summer Fun
PORTSMOUTH - 999 - English Wipeout
ROCHDALE - Elbow - Jesus Is A Rochdale Girl
SCUNTHORPE - KLF - It's Grim Up North
SOUTHEND - Billy Bragg - A13, Trunk Road To The Sea
TORQUAY - Donovan - Mad John's Escape
WIMBLEDON - The Wombles - The Wombling Song 
WYCOMBE - Andover Museum Loft Singers - The Wycombe Caning Girl
YORK - Velvet Undergound - Rock And Roll