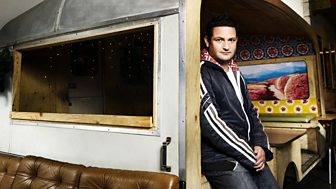 Chris Hawkins
Chris Hawkins starts your day with a mix of the best new music, forgotten classics and session tracks from the BBC archive seven days a week.
Home Team Glory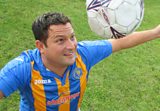 Chris Hawkins leads the 6 Music search for a song to acknowledge every football club in the Premier League, Scottish Premiership, English Championship, League 1 and League 2.
Not a football fan? No problem - this is just as much about place names in song. 
Find out how you can get involved here:
http://www.bbc.co.uk/programmes/b0072l8y/features/home-team-glory
Here's where we're at so far:
LEAGUE TWO
ACCRINGTON STANLEY - The Waterboys - Burlington Bertie And Accrington Stanley
BRISTOL ROVERS - Van Morrison - Summertime In England / The Pogues - Irish Rover
BURTON - Terry Hall - I Drew A Lemon  
BURY - Joanna Newsom - Sadie
CHELTENHAM -  The Monochrome Set - The Ruling Class
CHESTERFIELD - Tom Waits - Swordfishtrombone
DAGENHAM & REDBRIDGE - Morrissey - Dagenham Dave / Sam Hagar - Bad Motor Scooter
EXETER - Frank Turner - I Am Disappeared
FLEETWOOD - The Liverpool Scene - I've Got These Fleetwood Mac Chicken Shack John Mayall Can't Fail Blues
HARTLEPOOL - Darren Hayman - Who Hung The Monkey
MANSFIELD - Sigue Sigue Sputnik - Hey Jane Mansfield Superstar!
MORECAMBE - Squeeze - Christmas Day
NEWPORT - Woody Guthrie - Baltimore To Washington
NORTHAMPTON - Graham Coxon - Running For Your Life
OXFORD - Bob Dylan - Oxford Town
PLYMOUTH - The Barracudas - Summer Fun
PORTSMOUTH - 999 - English Wipeout
ROCHDALE - Elbow - Jesus Is A Rochdale Girl
SCUNTHORPE - KLF - It's Grim Up North
SOUTHEND - Billy Bragg - A13, Trunk Road To The Sea
TORQUAY - Donovan - Mad John's Escape
WIMBLEDON - The Wombles - The Wombling Song 
WYCOMBE - Andover Museum Loft Singers - The Wycombe Caning Girl
YORK - Velvet Undergound - Rock And Roll
LEAGUE ONE
BRADFORD - Mott The Hoople - All The Way To Memphis
BRENTFORD - Burning Spear - As It Is
BRISTOL CITY - Fink - Wheels
CARLISLE - Little Comets - One Night In October
COLCHESTER - Kinky Machine - Christopher
COVENTRY - Elvis Costello & The Attractions - Luxembourg
CRAWLEY - The Who - Boris The Spider
CREWE - Richard & Linda Thompson - The Little Beggar Girl
GILLINGHAM - The Singing Loins - Ascending Chatham Hill
LEYTON ORIENT - Drive By Truckers - Plastic Flowers On The Highway / Elton John - The Scaffold
MK DONS / MILTON KEYNES - Kirsty MacColl - Still Life
NOTTS COUNTY - Glen Campbell - Wichita Lineman / Pete & The Pirates - Knots
OLDHAM - The Clint Boon Experience - Presley On Oldham Street
PETERBOROUGH - Barenaked Ladies - Peterborough And The Kawarthas
PORT VALE - Little Feat - Vale of Tears / David Bowie - Amsterdam
PRESTON - Doves - Kingdom Of Rust
ROTHERHAM - Arctic Monkeys - Fake Tales Of San Francisco
SHEFFIELD UNITED - The Clash - This Is England / Pete & The Pirates - United
SHREWSBURY - The Gaslight Anthem - Wooderson
STEVENAGE - Morrissey - Maladjusted
SWINDON - XTC - Red Brick Dream
TRANMERE - Richard Digance - Earl's A Winger
WALSALL - Spirit Of The West - The Hammer & The Bell
WOLVES - Dexy's Midnight Runners - My Life In England [Part 1]
CHAMPIONSHIP
BARNSLEY - John Shuttleworth - She Lives In Hope
BIRMINGHAM - Electric Light Orchestra - Birmingham Blues
BLACKBURN - Seven - Blackburn
BLACKPOOL - The Kinks - Autumn Almanac
BOLTON WANDERERS - Planningtorock - Bolton Wanderer
AFC BOURNEMOUTH - The Fall - Bournemouth Runner
BRIGHTON & HOVE ALBION - Elastica - Brighton Rock
BURNLEY - The Pendle Folk - Old Pendle
CHARLTON - Stump - Charlton Heston
DERBY COUNTRY - Erland And The Carnival - The Derby Ram
DONCASTER ROVERS - The Courteeners - The Opener
HUDDERSFIELD TOWN - Iron Maiden - Sheriff of Huddersfield
IPSWICH TOWN - Jarvis Cocker - From a to i
LEEDS UNITED - Amanda Palmer - Leeds United
LEICESTER CITY - Saint Etienne - He's On The Phone
MIDDLESBROUGH - The Wedding Present - Cumberland Gap
MILLWALL - Half Man Half Biscuit - Uffington Wassail
NOTTINGHAM FOREST - Rudi London - Nottingham Forest Is My Rock N Roll
QUEENS PARK RANGERS - Pete Townshend - White City Fighting
READING - William Bell - A Tribute To A King
SHEFFIELD WEDNESDAY - Gomez - Whippin' Piccadilly / Flight Of The Conchords - Business Time
WATFORD - The Orb/Alan Parker - Grey Clouds 
WIGAN - Houghton Weavers - Ballad of Wigan Pier
YEOVIL - The Chesterfields - Last Train To Yeovil
SCOTTISH PREMIERSHIP
ABERDEEN - Joe Strummer And The Mescaleros - Arms Aloft
CELTIC - Rod Stewart - You're In My Heart
DUNDEE UNITED - The Dubliners - Dundee Weaver / Sham 69 - If The Kids Are United
HEARTS - Candi Staton - Young Hearts Run Free
HIBERNIAN - The Proclaimers - Joyful Kilmarnock Blues
INVERNESS - The Shirehorses - (Now) I Know (Where I'm Going) Our Kid
KILMARNOCK - Johnny Flynn - The Mountain Is Burning
MOTHERWELL - The Fiery Furnaces - Sullivan's Social Slub
PARTICK THISTLE - Carter The Unstoppable Sex Machine - Do Re Me, So Far So Good
ROSS COUNTY - The Fall - Hurricane Edward
ST JOHNSTONE - Richard Thompson - Bonnie St Johnstone
ST MIRREN - The Beat - Mirror In The Bathroom (Shaun Keaveny Version) 1st FAIL
PREMIER LEAGUE  
ARSENAL – Winter Of '79 by the Tom Robinson Band
ASTON VILLA – The Sun Never Sets On Aston Villa by Spizzenergi
CARDIFF – Cardiff In The Sun by the Super Furry Animals
CHELSEA – Chelsea Morning by Judy Collins
CRYSTAL PALACE – Winter by Tori Amos
EVERTON – People Ghetto Song - Everton Blender  
FULHAM FC - Ian Dury - What A Waste 
HULL CITY - Chumbawumba - Hull or Hell 
LIVERPOOL - The Mighty Wah - Heart As Big As Liverpool 
MAN CITY - The Jam - In The City 
MAN UTD - Fun Boy Three - We're Having All The Fun
NEWCASTLE - It's Immaterial - Driving Away from Home 
NORWICH - Tears For Fears - Schrodinger's Cat
SOUTHAMPTON - The Beatles - The Ballad Of John & Yoko
STOKE - Public Service Broadcasting - Night Mail
SUNDERLAND - The Streets - Trust Me
SWANSEA - John Cale - Ship Of Fools
TOTTENHAM - Chas And Dave - Gertcha
WEST BROM - Go Kart Mozart - West Brom Blues
WEST HAM - The Cockney Rejects - Police Car