The Reith Lectures
Significant international thinkers deliver the BBC's flagship annual lecture series
On radio
There are no upcoming broadcasts of this programme
Last on
Tue 2 Feb 2016 21:30
BBC Radio 4
See Prof Hawking's answers to audience questions illustrated on a blackboard.

Watch Stephen Hawking's first Reith lecture illustrated in chalk on a blackboard.

Stephen Hawking's Reith Lecture on black holes explained in a 2 minute Aardman animation.

Take a short animated journey into the mind of the world's most famous physicist.

Jim Al-Khalili invites you to brush up on your scientific icebreakers.

BBC iwonder guide looks at the man who sought a 'theory of everything'.

Download talks on subjects such as: the limits of contemporary art or what freedom means.
The Archive Hour: Reith at 60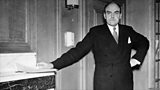 Professor Laurie Taylor marks the 60th anniversary of the Reith Lectures, charting their evolution, controversies and influence.