The Apprentice
Series in which candidates compete to go into business with multi-millionaire tycoon Lord Sugar.
Discover how the home fragrance challenge unfolded through the lens of social media.

Get your hilarious first look at all of this year's candidates with Matt Edmondson.
Honest subtitles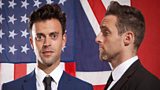 This year, The Apprentice is bringing you its take on what we think the candidates
really
mean when they try and outwit each other on the streets and in the boardroom.
The Apprentice-ish videos
this series owe much to the creativity of BBC Three's
Revolution Will be Televised
, who created the 'honest subtitles' format the videos emulate. So if you enjoy our cheeky take on what Lord Sugar and his candidates are thinking, why not join the Revolution? Catch it on Tuesdays at 10:30pm on BBC Three.