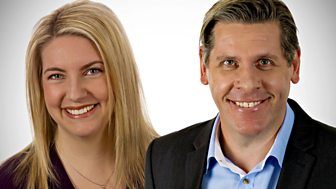 5 live Drive
5 live's drive programme with a round-up of the day's top news and sport, plus interviews with the people at the centre of the stories
Margaret lost her son at Hillsborough. Here she hears families singing outside court.

A local paper reported Kanye West's visit to Skye on page sixteen.

Cathy rode an inflatable swan through floods when she was called to a woman in labour.

"We don't want any more lost dogs" says Hacker, as compulsory microchipping introduced.

Dr Borgers explains how his hospital dealt with 93 victims of the Brussels attacks.

Great-great grandmother, Doris Long, lowered herself down Portsmouth's Spinnaker Tower.

He presented Drive for 16 years. It wasn't all serious and it didn't always go to plan...

Peter heads back to Essex where he began his career for 5 live's Homecoming series.
5 live Energy Day highlights