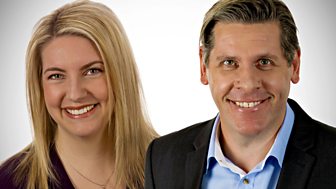 5 live Drive
5 live's drive programme with a round-up of the day's top news and sport, plus interviews with the people at the centre of the stories
Scientists have translated the secret language of the gibbon for the first time.

5 live's Tony Livesey samples snails as the delicacy grows in popularity in Britain.

Find out how you can take part in our coverage of the 2015 General Election.

A man who trained a prototype 'robo-chef' says it made "crab bisque for a first run".

The director of a company testing underground freight deliveries says they "will happen".

He presented Drive for 16 years. It wasn't all serious and it didn't always go to plan...

A few famous faces read Peter Allen some farewell odes as he leaves 5 live's Drive.

Peter heads back to Essex where he began his career for 5 live's Homecoming series.
5 live Energy Day highlights