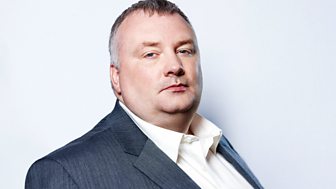 Stephen Nolan
Fierce topical debate, direct from Manchester
UFC fighter Stormin' Norman Parke from Northern Ireland takes down Stephen Nolan.

Adele Bellis lost an ear and is left with horrific facial scarring following acid attack

Croyde Cracknell says his dad dived in "Hasselhoff style" after the man and his grandson.

Comedian Roy Walker says the singer and entertainer Val Doonican was 'one in a million'.

The US civil rights worker's parents claim she is "deceiving people" about being black.

Hear the moment an elated Stephen Nolan makes it to a summit in NI's Mourne Mountains.

Comic Ted Robbins tells of the moment his heart stopped beating while performing on stage

Steph Hirst: everyone has been 'supportive' since she came out as transgender in October.