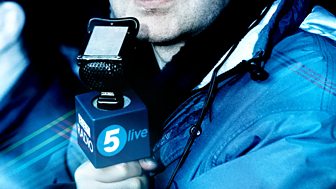 5 live Sport
The latest sport with coverage and debate, featuring commentaries on the big games and sporting events
The latest football news from 5 live with analysis, debate & exclusive interviews.

Arsenal fan Wayne lost his sight 13 years ago and shares experiences of going to matches.

5 live BeSpoke's OJ Borg attempts the Tour de France's 'Hollywood climb'.

In a wide-ranging interview Gascoigne speaks openly about his past struggles with alcohol

Steve Cram talks about the Bislett Games 30 years on from breaking the world mile record.

Andy Murray talks home comforts; including how he likes to serve up breakfast.

England wicketkeeper Matt Prior has announced his retirement from all forms of cricket.

Six-year-old Harry Westlake from Plymouth sings the national anthem.