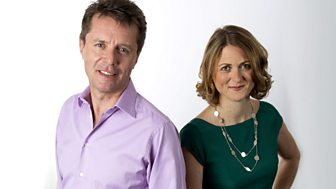 5 live Breakfast
5 live's breakfast programme with news, sport, weather and money reports
Philosophical Play Consultant, Sara Stanley, uses questions to teach kids philosophy.

Suffolk residents have taken drastic measures after rumours of travellers circulated.

Five-year-old Stan had to have a tooth removed due to tooth decay.

Toddlers Lilly and Poppy became restless when dad Jason Liversidge was being interviewed.

92-year-old World War Two veteran Joy Lofthouse returns to the skies in a Spitfire.

Bob Lowe has written a poem he wrote for his wife Kath, who died three years ago.

Videos from our studio webcam and out and about with the Breakfast team.

Rachel Burden and George Riley try the eight sports hoping to make it to the 2020 games.

We follow Simon King during a hectic half hour on a typical day reading the weather.