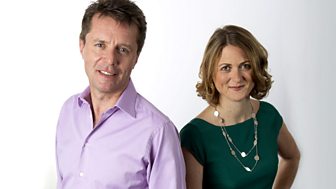 5 live Breakfast
5 live's breakfast programme with news, sport, weather and money reports
Faye's epilepsy became very unstable when she was pregnant with her first baby.

Friends for 31 years, Conservative leader of Kirklees Council talks about Jo Cox.

Chris Strompolos and Eric Zala on why it took 35 years to recreate Indiana Jones film.

Scientists are bringing moths out of the closet by making them sexually confused.

A study suggests that singing can help people fight the disease.

Anna Holligan spent a night at a makeshift camp near the Austrian town of Nickelsdorf.

92-year-old World War Two veteran Joy Lofthouse returns to the skies in a Spitfire.

Rachel Burden and George Riley try the eight sports hoping to make it to the 2020 games.