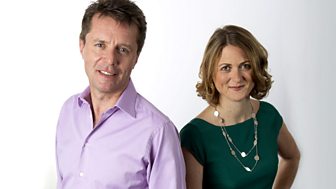 5 live Breakfast
5 live's breakfast programme with news, sport, weather and money reports
Faye's epilepsy became very unstable when she was pregnant with her first baby.

Friends for 31 years, Conservative leader of Kirklees Council talks about Jo Cox.

Chris Strompolos and Eric Zala on why it took 35 years to recreate Indiana Jones film.

A study suggests that singing can help people fight the disease.

Anna Holligan spent a night at a makeshift camp near the Austrian town of Nickelsdorf.

92-year-old World War Two veteran Joy Lofthouse returns to the skies in a Spitfire.
Chowdhury Mueen Udin – Apology
During the BBC Radio 5 live Breakfast programme on 25 August 2016, in an interview with Omer el-Hamdoon, Deputy Secretary General of the Muslim Council of Britain, we suggested that Chowdhury Mueen-Uddin had called for the lynching of Salman Rushdie. The BBC has been asked by Mr Mueen-Uddin to make clear, and it accepts, that while like many Muslims he found the Satanic Verses highly offensive to Muslims and their faith, at no stage did he advocate for or campaign for Mr Rushdie to be lynched or in any way harmed. The BBC apologises to Mr Mueen-Uddin for the distress and damage this statement caused him.