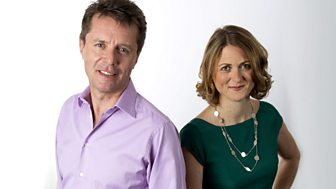 5 live Breakfast
5 live's breakfast programme with news, sport, weather and money reports
Find out how you can take part in our coverage of the 2015 General Election.

Bob Lowe has written a poem he wrote for his wife Kath, who died three years ago.

Jonathan Blake, diagnosed with HIV in the 80s, meets Luke Alexander, diagnosed last year,

Formula 1 champion Lewis Hamilton surprises young fan and karting star Harley Haughton.

Owner of The Entertainer says parents are being "overcharged on ebay" for Frozen doll.

Videos from our studio webcam and out and about with the Breakfast team.

Nicky Campbell attempts to power a radio studio for 5 live's Energy Day.

Rachel Burden and George Riley try the eight sports hoping to make it to the 2020 games.

We follow Simon King during a hectic half hour on a typical day reading the weather.