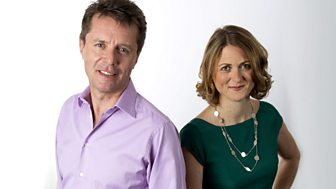 5 live Breakfast
5 live's breakfast programme with news, sport, weather and money reports
A British pilot shot dead by poachers in Tanzania described as 'amazing guy'

Tunnock's Teacakes have been advertising themselves as "Great British", not just Scottish

Emmanuel Jal was recruited by The Sudan People's Liberation Army when he was a child.

Bob Lowe has written a poem he wrote for his wife Kath, who died three years ago.

Videos from our studio webcam and out and about with the Breakfast team.

Anna Holligan spent a night at a makeshift camp near the Austrian town of Nickelsdorf.

92-year-old World War Two veteran Joy Lofthouse returns to the skies in a Spitfire.

Rachel Burden and George Riley try the eight sports hoping to make it to the 2020 games.

We follow Simon King during a hectic half hour on a typical day reading the weather.