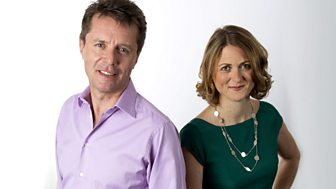 5 live Breakfast
5 live's breakfast programme with news, sport, weather and money reports.
Bob Lowe has written a poem he wrote for his wife Kath, who died three years ago.

A survey out today suggests that attitudes to mental health are changing.

Nurse recoiled in horror as student's nosebleed crawled back into her nostril.

Campaigners urge people to wee in the shower to save millions of litres of water.

Debs Aspland on how changes in special educational needs will affect her.

The diary of a soldier living back at mum and dad's after being made redundant.

Videos from our studio webcam and out and about with the Breakfast team.

Nicky Campbell attempts to power a radio studio for 5 live's Energy Day.

Rachel Burden and George Riley try the eight sports hoping to make it to the 2020 games.

We follow Simon King during a hectic half hour on a typical day reading the weather.