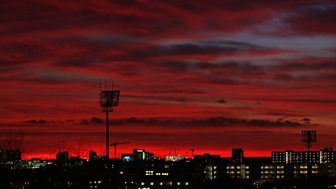 Up All Night
News and features from around the world
Missing Canadian man reunited with his family after an incredible 10,000 mile journey

60-year-old Steve Ward is the world's oldest professional boxer.

Radio 2 presenter Jeremy Vine pays tribute to legendary presenter Desmond Carrington.

Florida Sheriff describes finding a girl 18 years after her abduction.

Former ice hockey player Sheldon Kennedy suffered sexual abuse at the hand of his coach.

Damion Cooper relives the moment he was shot on his mothers doorstep in Baltimore.

Ex-Le Mans driver Amanda Stretton reveals how to stay safe on poorly lit roads.

American surgeon describes how he successfully performed the first ever skull transplant.
Virtual Jukebox
Oasis - Don't Look Back In Anger
Chuck Berry - Johnny B. Goode
Aretha Franklin - Respect
The Beach Boys - Good Vibrations
The Beatles  - Eleanor Rigby
Billy Bragg - Between the Wars 
The Kinks – Lola
Frank Sinatra – I've Got You Under My Skin
Billy Fury - When Will You Say I Love You?
Nena - 99 Red Balloons
Ben E. King - Stand By Me
Elton John - Daniel
Jimi Hendrix - Voodoo Chile
Michael Jackson - Billie Jean
Johnny Cash - Folsom Prison Blues
The Specials - Gangsters
Womack & Womack - TKO
Leo Sayer - The show must go on
Fleetwood Mac - The Chain
Louis Armstrong - What a Wonderful World
Luciano Pavarotti - Nessun Dorma
The Undertones - Teenage Kicks
Muddy Waters - Mannish Boy
Led Zeppelin - When The Levee Breaks
Leonard Cohen - Suzanne
Bob Dylan - Like A Rolling Stone
Jackie Wilson - Higher and Higher
Bob Dylan - All Along the Watchtower
Yes - And You and I
Simon and Garfunkel - The Sound of Silence
James Brown - I Feel Good
The Tallis Scholars - Gregorio Allegri's Miserere Mei Deus
Bob Marley and the Wailers - Jammin'
Abba - The Day Before You Came
The Doors - Light My Fire
Otis Redding - These Arms of Mine
Motorhead - Ace of Spades
Ian Dury & The Blockheads - Hit Me with your Rhythm Stick
Thin Lizzy - Whiskey in the Jar
Lightening Hopkins - Smokestack Lightning
Joe Walsh - Life's Been Good
Mott the Hoople - Golden Age of Rock and Roll
The Kingsmen - Louie Louie
Golden Earring - Radar Love
The Stranglers - Golden Brown
Rainbow - Stargazer
Joy Division - Love Will Tear Us Apart
U2 - Pride (In The Name of Love)
Petula Clark - Downtown
Johnny Kidd and the Pirates - Shakin' All Over
Jefferson Airplane - White Rabbit
Randy Crawford - One Day I'll Fly Away
The Animals - House of the Rising Sun
Susan Cadogan - It Hurts So Good
Nat King Cole - Stardust
The Clash - (White Man) in Hammersmith Palais
The Kinks - Waterloo Sunset
Pulp - Common People
Amy Winehouse and Tony Bennett - Body and Soul
The Beatles - We Can Work It Out
Patti Smith - Because The Night
Stevie Wonder - Superstition
Toots & The Maytals - Pressure Drop
The Smiths - There Is A Light That Never Goes Out
Prince - Sign o'the Times
Smokey Robinson - Tracks Of My Tears
Fela Kuti - Shakara
The Cranberries - Zombie
Kirsty MacColl - Days
Joan Armatrading - Love and Affection
The White Stripes - Jolene
Talking Heads - Once in a Lifetime
Lou Reed - Walk On The Wild Side
Robert Wyatt - Shipbuilding
Bob Marley - Redemption Song
Squeeze - Tempted
The Sugarcubes - Birthday
Pogues and Kirsty McColl - Fairytale of New York
Johnny Cash - Hurt
Funkadelic - One Nation Under A Groove
Etta James - I'd Rather Go Blind
The Fatback Band - I Found Lovin'
Nirvana - Smells Like Teen Spirit
Etta James - I'd Rather Go Blind
Grandmaster and the Furious Five - The Adventures of the Wheels of Steel
Mott The Hoople - Roll Away The Stone
The Who - Baba O'Riley
Sam Cooke - A Change Is Gonna Come
Jimmy Cliff - Many Rivers To Cross
U2 - Where The Streets Have No Name
The Specials - Ghostown
The Eagles - Desperado
Peter Sarstedt - Where Do You Go To My Lovely
Ella Fitzgerald - Summertime
Harold Melvin and the Blue Notes - Don't Leave Me This Way
Gerry and the Pacemakers - You'll Never Walk Alone
Donna Summer - I Feel Love
Jethro Tull - Living In The Past
Young Tiger - I Was There (At the Coronation)
Desmond Dekker - The Israelites
Fleetwood Mac - Need Your Love So Bad
Janis Joplin - Mercedes Benz
Peggy Lee - Fever
Neil Diamond - I Am I Said
The Rolling Stones - Paint It Black
Deep Purple - Smoke On The Water
David Bowie - Heroes
Jerry Butler - Only The Strong Survive
The Velvet Underground - I'm Waiting For The Man
Rose Murphy - Busy Line
Rufus & Chaka Khan - Ain't Nobody
St Etienne - Only Love Can Break Your Heart
The Cult - She Sells Sanctuary
Val Doonican - Elusive Butterfly
Leonard Cohen - Tower of Song
Jimi Hendrix - The Wind Cries Mary
Miles Davis - So What
John Martyn - Solid Air
Don McLean - American Pie
Queen - Love of My Life
Glenn Miller & His Orchestra - In The Mood
Slade - Merry Christmas Everybody
Crowded House - Into Temptation
PiL - Public Image Ltd
Laura Nyro - Eli's Coming
Gil Scott Heron - Winter in America
Pink Floyd - See Emily Play
Aretha Franklin - Say A Little Prayer
Billy Joel - New York State of Mind
Noel Harrison - Windmills of Your Mind
Faithless - Insomnia
Kate Bush - Running Up That Hill
Stealers Wheel - Stuck In The Middle With You
John Lennon - Woman
Al Green - Tired of Being Alone
David Bowie and Niles Rodgers - Let's Dance
Michael Jackson - Billy Jean
Gram Parsons and Emmylou Harris - Love Hurts
Maria Muldaur - Midnight at the Oasis
George Jones - He Stopped Loving Her Today
Marvin Gaye - What's Going On
George Harrison - My Sweet Lord
Bill Withers - Ain't No Sunshine
Bonnie Raitt - You Can't Make You Love Me
Joe Brown - I'll See You In My Dreams
Ray Charles - What'd I Say
Matt Munro - Softly as I Leave You
Billie Holliday - Strange Fruit
Wynonie Harris - Good Morning Judge
Buddy Holly - That'll Be The Day
Hollywood Flames - Buzz-Buzz-Buzz
JJ Cale - Magnolia
The Kinks - You Really Got Me
Bob Dylan - Subterranean Homesick Blues
Bruce Springsteen - Born To Run
Bruce Springsteen - Thunder Road
David Bowie - Wild Is The Wind
The Mamas and the Papas - California Dreamin'
ELO - Mr Blue Sky
Jimi Hendrix - All Along The Watchtower
Luther Vandross - Never Too Much
AC/DC - Highway To Hell
Bob Dylan - Desolation Row
Nick Drake - Northern Sky
Led Zeppelin - Kashmir
Dr. Feelgood - She Does It Right
Bon Jovi - I'll Sleep When I'm Dead
The Beatles - Strawberry Fields Forever
Labi Siffre - (Something Inside) So Strong
The Traveling Wilburys - Handle With Care
Pink Floyd - Comfortably Numb
Massive Attack - Unfinished Sympathy
Fleetwood Mac - The Chain
The Pretenders - Brass in Pocket
Buddy Holly - It Doesn't Matter Anymore
Angie Stone - I Wish I Didn't Miss You