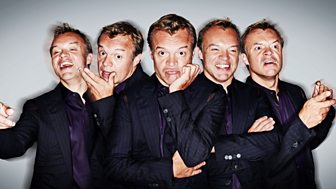 The Graham Norton Show
Graham Norton presents a show focusing on the people, trends, stories and aspects of celebrity culture that interest him most, featuring trademark Norton comedy monologues and celebrity chat
Appear as a guest on Graham's show
The Graham Norton Show is the world-famous talk show where our sparkling host talks to a host of sparkling celebrities ... but now YOU have the chance to appear as a talk guest yourself.
'That's All We've Got Time For' is the weekly item in which you, the audience members and viewers, get to sit in the famous red chair and be interviewed by Graham live on the show.  All you have to do is tell an interesting story – but if Graham gets bored, he presses the button and... well, let's just say you won't be sitting in the chair any longer.
If you have a story to tell, and feel that you'd be an entertaining guest on the show, send your contact details, your story and a few words about yourself to this email address:
The Graham Norton Show is recorded on Thursday evenings in central London, so remember that if you're picked, you'll need to be available to come to a recording.
Important: Your contact details will be retained by So Television, an independent production company which produces The Graham Norton Show for the BBC, so that they may contact you about appearing on the programme. Your details will not be retained after the current run of The Graham Norton Show has ended. Due to the volume of requests received, So Television may be unable to reply to everyone who contacts them.
Graham Norton nominated for two TV BAFTAs!