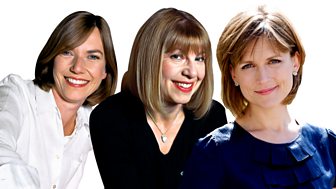 Afternoon on 3
Afternoon broadcast, featuring music programmes and concerts
2nd - 6th March
This week Penny Gore celebrates the 70th birthday of the conductor and harpsichordist Nicholas Kraemer with performances of Haydn symphonies and Mozart's Horn Concerto no. 4 with the BBC Philharmonic. During week the orchestra will also perform the final symphonies of Beethoven, Schubert and Vaughan Williams, as well as Schubert's 'Unfinished' symphony on Tuesday.
Monday starts with a performance of Haydn's Symphony no. 85 ('La reine'), given the nickname because it was a particular favourite of Queen Marie-Antoinette's, and then continues with Beethoven's great nineth symphony and finishes with Vaughan Williams own final symphony, from a performance with Sir Andrew Davis in May last year at the Bridgewater Hall. 
There is a live segement from Manchester at the start of Tuesday with three works from Argentine composer Alberto Ginastera, followed by Mozart's Horn Concerto no. 4 with renowned soloist Richard Watkins recorded at Victoria Hall in Hanley back in 2010. There will also be the Schubert 'Unfinished' symphony and Schumann's Cello Concerto with Sol Gabetta as soloist from a concert given in Maribor in 2012.
Wednesday starts with a return to Haydn and Nicholas Kraemer with his early Symphony no. 11 and finishes with Schubert's 'Great' C major symphony now believed to have been written earlier than first thought between between the years 1824 and 1826.
Friday concludes the celebrations of Nicholas Kraemer's birthday with a final Haydn performance. His Symphony no. 74 starts a programme in which Vaughan Williams' Lark Ascending, Elgar's 'Enigma' Variations feature prominently. Elgar's final completed symphony, his second, ends the week of BBC Philharmonic performances.
Thursday's Opera Matinee comes from the Théâtre des Champs-Elysées in a concert performance on Massenet's version of Shakespeare's Anthony and Cleopatra. Michel Plasson leads Sophie Koch (Cléopâtre), Frederic Goncalves (Marc-Antoine) and the Mulhouse Symphony Orchestra in a concert performance of Massenet's final opera Cléopâtre.