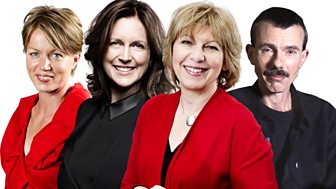 Afternoon on 3
Afternoon broadcast, featuring music programmes and concerts
8th - 12th February
On this week's Afternoon on 3 Katie Derham features recordings made by the BBC Scottish Symphony Orchestra, at their home in Glasgow City Halls and further afield.
Throughout the week there's a chance to hear new recordings of works for violin and orchestra by German romantic Max Bruch, with featured soloist Jack Liebeck and conductor Martyn Brabbins. Monday's programme includes his Second Violin Concerto, written for the Spanish virtuoso Pablo de Sarasate. Also featured on Monday is a concert recorded in the 14th century setting of St. Mary's Parish Church in East Lothian. The Norwegian conductor Eivind Aadland guides the orchestra through Brahms' Double Concerto, featuring soloists from the acclaimed international Michelangelo String Quartet: Romanian violinist Mihaela Martin and Swedish cellist Frans Helmerson.
Bruch's Konzertstuck for violin and orchestra is the featured work from that composer on Tuesday. But first there's a chance to hear the BBC Scottish Symphony Orchestra in the grand Victorian surroundings of Leeds Town Hall. American cellist Alisa Weilerstein and her husband, the dynamic Venezuelan conductor Rafael Payare, join the orchestra for a programme that includes Shostakovich's less frequently heard Second Cello Concerto and the central one of Dvorak's three great symphonies: his no.8.
Wednesday's programme begins with a live link-up to Ulster Hall in Belfast, where John Toal will be waiting to present a programme of music for Ash Wednesday. Tenor Ben Johnson is on hand to perform Mahler's Rückert-Lieder, and there's instrumental music from Weber and Wagner, in the form of the Overture to Oberon, and the Siegfried Idyll. The Bruch work on Wednesday is the rarely-heard Adagio Appassionato for violin and orchestra.
Throughout February we're broadcasting Puccini's operatic triptych Il Trittico. This week we feature the second part: Suor Angelica. Soprano Ermonela Jaho takes on the title role of the troubled nun in this production recorded at the Royal Opera House in 2011. It's followed by another BBC Scottish Symphony Orchestra concert, this time with conductor Markus Stenz. Two cornerstones of the symphonic repertoire: Mozart's 29th and Schumann's 2nd frame a performance of Haydn's Keyboard Concerto in D with the Dutch classical-era specialist Ronald Brautigam.
Adolf Schulz-Evler is a Polish composer who was active in the latter half of the 19th century and is perhaps best known nowadays for his piano transcription of Johann Strauss's Blue Danube waltz. On Friday's Afternoon on 3 there's a chance to hear his Russian Rhapsody, which has been recorded by the BBC Scottish Symphony Orchestra with the Bulgarian conductor Vladimir Kiradjiev and fellow Bulgarian pianist Ludmil Angelov. They both also feature Moritz Moszkowski's Piano Concerto in B minor. And there's music from Argentina: Alberto Ginastera's Variaciones Concertantes, along with another Schumann Symphony. This time it's his 4th.