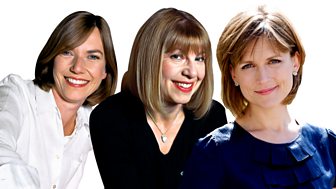 Afternoon on 3
Afternoon broadcast, featuring music programmes and concerts
26th - 30th January
Penny Gore presents Italian Baroque concertos from Concerto Copenhagen, and music from some of the best European Chamber Orchestras. 
Monday and Tuesday Alfredo Bernardini directs the Concerto Copenhagen performing Veracini, Marcello, Vivaldi's Sinfonia from "La Senna Festeggiante" and his Lute Concerto in D major with soloist Frederik Bock. There's also a chance to catch performances of Platti's Oboe Concerto and Felice dall'Abaco's Concerto in B flat for strings and continuo. Thomas Dausgaard conducts the Swedish Chamber Orchestra playing Mendelssohn's Piano Concerto no.1 with Jan Lisiecki on piano. The Salzburg Mozarteum under the baton of Ivor Bolton brings us Mozart's Ballet Music from 'Idomeneo', Serenade in D major (Finalmusik) and the Piano Concerto no.17 with soloist Kristian Bezuidenhout. Jaime Martin conducts the Lausanne Chamber Orchestra with a rendition of Brahms' Serenade no.1 in D major.
Thursday's Opera matinee is Vivaldi's Ottone in Villa, recorded at the Teater Republique in Copenhagen last September. 
Throughout the rest of the week the Accademia Bizantina and director Ottavio Dantone bring us more Vivaldi, Bach's Harpsichord Concerto in A major, while the Paris Chamber Orchestra under the direction of Francois Leleux performs Schubert's Symphony no.5, Hummel, Mozart's Symphony no. 29 and Erik Satie's Gymnopedie no.1.