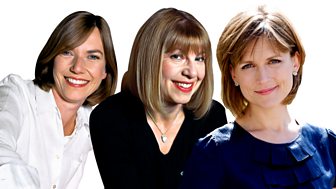 Afternoon on 3
Afternoon broadcast, featuring music programmes and concerts
20th - 25th October
This week is the first week of two that Afternoon on 3 are celebrating the twin themes of Nordic and Baltic classical music.
The BBC Philharmonic will be performing the first three symphonies by Jean Sibelius throughout the week. You will also be able to hear some lesser-known Carl Nielsen overtures and tone poems, Helios and Saga-drom from concerts earlier this year. There is also a chance to hear a couple of works from two lesser-known twentieth-century Norwegian composers. Johan Halvorsen and Ludvig Irgens-Jensen.
Thursday's Opera Matinee comes from the Rossini festival in Pesaro, recorded in August of this year. Will Crutchfield leads Michael Spyres and Jessica Pratt as well as the Gioachino Rossini Symphony Orchestra in a performance of Aureliano in Palmira.