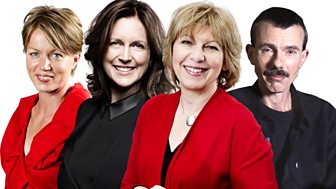 Afternoon on 3
Afternoon broadcast, featuring music programmes and concerts
13th – 17th April
Penny Gore introduces recent concert performances by some of Norway's leading orchestras.
The distinctly Norwegian sound of the Hardanger fiddle features in Monday's offering. Ragnhild Hemsing, with the Oslo Philharmonic, performs on the instrument in music written for the play Fossegrimen by the Norwegian composer Johan Halvorsen. Another fine young Norwegian soloist, Vilde Frang, joins the orchestra and its new principal conductor Vasily Petrenko for Bartók's First Violin Concerto, while Petrenko guides the full orchestra through his fellow Russian Sergei Rachmaninov's Second Symphony.
Rachmaninov's First Symphony is on the programme on Tuesday, performed by the Bergen Philharmonic and their American music director Andrew Litton. There's more Russian music from Prokofiev and his raucous Scythian Suite from Ala I Lolly, as well as Nikolai Medtner's Third Piano Concerto, with soloist Yevgeny Sudbin. There's also American music: violinist Vadim Gluzman joins the strings and percussion (and harp) of the Bergen Philharmonic to perform Leonard Bernstein's Serenade after Plato's 'The Symposium'.
The Bergen Philharmonic (celebrating its 250th anniversary this year) features again on Wednesday with a full performance of Tchaikovsky's Nutcracker. Neeme Järvi, who's recording of this work with the Bergen Philharmonic is so widely regarded, is the conductor.
There's a rare chance to hear Vincenzo Bellini's opera La Straniera on Thursday. The German soprano Marlis Petersen takes on the title role in this busy tale originally from the pen of the French novelist Charles-Victor Prévot, vicomte d'Arlincourt.
A mix of Norwegian orchestras finish the week on Friday. The Orchestra of Norwegian Radio and Christian Eggen perform Haydn's rousing final symphony, no.104, 'London'. The strings of the Norwegian Chamber Orchestra join the young Norwegian saxophonist Soran Lind for Lars-Erik Larsson's Saxophone Concerto. The Bergen Philharmonic and Andrew Litton are performing Prokofiev's Fourth Symphony, and there's French music from the Oslo Philharmonic and Fabien Gabel with Ravel's Shéhérazade and all three of Debussy's Images for orchestra.