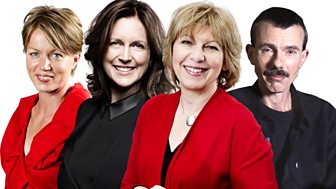 Afternoon on 3
Afternoon broadcast, featuring music programmes and concerts
27th April - 1st May
Monday
Penny Gore beings a week of recent recordings with a French flavour by the BBC Philharmonic. In today's programme, Chief Conductor Juanjo Mena conducts the orchestra in music by Debussy and Pierné, Gianandrea Noseda conducts Casella's 1st Symphony and the French pianist Philippe Cassard performs Saint-Saëns's 5th Piano Concerto, the 'Egyptian'. And to mark Anzac Day on the 25th April, the BBC Philharmonic perform New Zealander Douglas Lilburn's Symphony no.2
Tuesday
In the first part of the afternoon, Edward Gardner takes to the podium as guest conductor in a live concert from MediaCity Salford which is presented by Stuart Flinders. Edward Gardner conducts the BBC Philharmonic in Berlioz's Beatrice and Benedict Overture, Dukas' La Péri and Poulenc's Piano Concerto with the soloist Louis Lortie.
In the second part of the programme, Chief Conductor Juanjo Mena conducts the BBC Philharmonic in recent recordings of Spanish-inspired works: Gerhard's Dances from Don Quixote and Falla's La Vida Breve. Nicholas Collon conducts Ravel's La Valse, and the orchestra marks Anzac Day on the 25th April with a recording of Gareth Farr's Piano Concerto performed by Tony Lee.
Wednesday
The young Dutch pianist Hannes Minnaar joins the BBC Philharmonic with its Chief Conductor, Juanjo Mena, in Beethoven's 5th Piano Concerto, the 'Emperor', which is followed by Debussy's Iberia. Williamson's Sinfonietta, conducted by Tecwyn Evans, marks Anzac Day on the 25th April.
Thursday
In this afternoon's opera matinee, Penny Gore presents Verdi's Luisa Miller, a romantic opera full of passion and intrigue. It is the story of Luisa and Rodolfo's love, which is challenged by their families' different social standings and ultimately ends in tragedy. This afternoon's performance was recorded in November at the State Opera in Hamburg. It was directed by Andreas Homoki and the Hamburg State Opera is conducted by Simone Young. The Georgian coloratura soprano Nino Michaidze takes the title role and Rodolfo is sung by the Italian-born tenor Ivan Magri.
Friday
Chief Conductor Juanjo Mena conducts the BBC Philharmonic in Debussy's Rondes de Printemps, Ravel's Rapsodie espagnol and Rodrigo's Fantasia para un gentilhombre with the guitarist Craig Ogden. Plus Mendelssohn's 3rd Symphony 'Scottish' and Stephen Hough performing Brahms's 1st Piano Concerto.