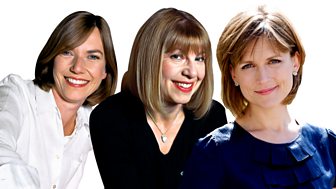 Afternoon on 3
Afternoon broadcast, featuring music programmes and concerts
27th - 31st October
This week is the second week of two that Afternoon on 3 are celebrating the twin themes of Nordic and Baltic classical music.
The BBC Philharmonic will be performing the final four symphonies by Jean Sibelius throughout the week. You will also be able to hear a lesser-known Carl Nielsen work, An imaginery journey to the Faroes as well as the contemporary Latvian composer, Peteris Vasks, both on Wednesday.
The BBC Philharmonic will also be performing Grieg's Holberg Suite and Bruch's popular first violin concerto. Continuing with the violin theme, on Friday, there is a chance to hear an iconic British violin work when Tasmin Little joins the BBC Philharmonic to play both the Lark ascending and the under-performed violin concerto by E. J. Moeran.
Thursday's Opera Matinee comes from the Aix-en-Provence festival, recorded in July of this year. Marc Minkowski leads Julie Fuchs, Samuel Boden, Chloe Briot and Manuel Nunez-Camelino with Les Musiciens du Louvre in a concert performance of Rameau's Les Boreades.