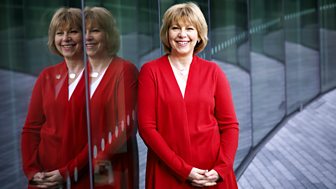 Afternoon on 3
Afternoon broadcast, featuring music programmes and concerts
23rd - 27th March
Penny Gore introduces recent recordings by the Ulster Orchestra.
Monday's programme continues Afternoon on 3's Nordic and Baltic focus with works by anniversary composers Sibelius and Nielsen. Sharon Bezaly is the soloist in Nielsen's Flute Concerto, and Principal Guest Conductor Jac van Steen takes to the podium for the 4th Symphony, the so-called 'Inextinguishable'. Ben Gernon, still in his mid-twenties but rapidly establishing himself, is the conductor for Sibelius's 5th Symphony and Karelia Overture. A selection from Grieg's ever-popular incidental music to Peer Gynt completes the programme.
The Germanic tradition is Tuesday's focus, with works by Brahms, Haydn and Mendelssohn. Paul Watkins directs from the cello in Haydn's Cello Concerto in C major, and Rumon Gamba conducts Mendelssohn's Italian Symphony. There's also a chance to hear Brahms's stately tribute to Haydn: his Variations on a theme by Haydn.
Two symphonies feature on Wednesday, with the orchestra's new Venezuelan Chief Conductor Rafael Payere. First, Tchaikovsky's joyful Second Symphony, the 'Little Russian' with its Ukrainian folk influences; and then the expanses of North America and their lasting impression on a visiting Czech composer infuse the second work: Dvorák's ever-popular 9th Symphony, 'from the New World'.
Our Opera Matinée on Thursday comes from La Scala in Milan. It's the recent production of Rimsky-Korsakov's The Tsar's Bride, conducted by Daniel Barenboim and starring Olga Peretyatko and Johannes Martin Kränzle. In Dmitri Tcherniakov's production, intrigue at the 16th century Russian court is transported to the setting of a modern-day television studio.
There's more from the Ulster Orchestra on Friday in a varied programme featuring music from both sides of the Atlantic. From the American side, there's Aaron Copland's ballet Appalachian Spring in a setting for 16 instruments, and Argentinian composer Alberto Ginastera's showpiece dance suite from Estancia. From the European side there's more Nielsen and Sibelius, and the week ends with William Walton's epic First Symphony.