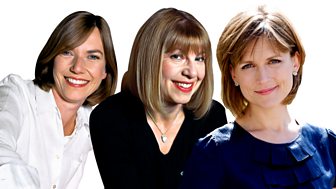 Afternoon on 3
Afternoon broadcast, featuring music programmes and concerts
17th - 21st November
Penny Gore presents a continuation of Afternoon on 3's Nordic/Baltic Season with performances from the BBC Symphony Orchestra. The compositions of Sir Edward Elgar are also performed throughout the week. 
On Monday there is a chance to hear Brostrom's Transit underground and Larsson Gothe's Symphony no. 2 (...sunt lacrimae rerum...) with Claire Hammond as soloist. She will also be performing some rare Sibelius and Rangstrom piano music.
On Tuesday, a performance first given at the Alhambra Palace in Granada is repeated of Saint-Saens Egyptian piano concerto, Javier Perianes the soloist, and Mahler's mighty fifth symphony.
Elsewhere in the week Symanowski's first and third symphonies, Nielsen's early first symphony and Tchaikovsky's Pathetique Symphony will all be heard. There will also be two Sibelius works performed from a genre in which he wrote much, but little is performed; the incidental music. Kuolema and King Christian II will be heard on Tuesday and Friday respectively.      
There will be no Opera Matinee this week, instead there is a performance of the Dream of Gerontius given by the the BBC Symphony Orchestra and Sir Andrew Davis from April of this year; Sarah Connolly, David Soar & Stuart Skelton the soloists. And finally on Friday there will be a live concert from Maida Vale with Michael Seal conducting the BBC Symphony Orchestra in performances of Villa-Lobos, Korngold and Revueltas.