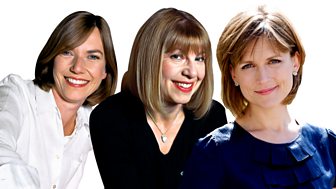 Afternoon on 3
Afternoon broadcast, featuring music programmes and concerts
29th September - 3rd October
This week on Afternoon on 3 is the first of two weeks celebrating the BBC's new initiative, 'Ten Pieces'. Every day there will be an opportunity to hear a fantastic performance from one of the BBC Performing Groups of a work in the initiative.
This week the BBC Philharmonic will be performing Beethoven's famous Fifth Symphony, Britten's Four Sea Interludes from his opera Peter Grimes and John Adams' A Short Ride in a Fast Machine.
On Wednesday The Ulster Orchestra will perform the first Suite from Grieg's incidental music to Peer Gynt, which includes the Hall of the Mountain King.
On Friday the BBC National Chorus and Orchestra of Wales perform Handel's Zadok the Priest, part of the four anthems written for the coronation of King George II in 1727.
Thirsday's Opera Matinee will be Massenet's Don Quichotte from a performance given earlier this summer at Grange Park Opera in Hampshire.