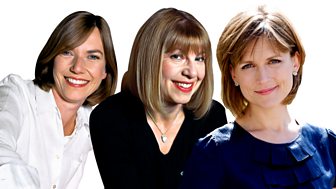 Afternoon on 3
Afternoon broadcast, featuring music programmes and concerts
15th - 19th December
Afternoon on 3 presents exciting live concerts from the BBC Performing Groups throughout the week, continuing our Nordic and Baltic Season.
Monday afternoon's concert is provided by the BBC Concert Orchestra, live from the Watford Colosseum. This performance features Holmboe's dramatic Symphony no.13 ­–and Berwald's pastoral Symphony no.3 in C major. The performance also includes Anne Dudley's Northern Lights, alongside the prelude to Act 2 of Nielsen's Saul og David. There will also be a chance to hear John McCabe's Fire at Durilgai – a work performed by the BBC Philharmonic Orchestra in this, the composers 75th year.
On Tuesday, Afternoon on 3 comes live from BBC Hoddinott Hall, with the BBC National Orchestra of Wales performing music by some of Spain's most talented composers. There's the chance to hear Joaquín Turina's Danzas fantásticas, Op.22 and Manuel de Falla's El sombrero de tres picos which features as soloist, New Generation Artist Kitty Whately. The programme also includes Delius' most famous work, The Walk to the Paradise Garden, before giving listeners the chance to hear from another of BBC Radio 3's New Generation Artists, Sean Shibe, in Sir Malcom Arnold's Concerto for Guitar, Op. 67. Tuesday draws to a close with material from the BBC Scottish Symphony Orchestra, including Mendelssohn's The Hebrides Overture and Sean Shepherd's Blue Blazes, as well as a performance of Zarzycki's Mazurka in G major, Op.26, featuring a solo performance from Eugene Ugorski.
Wednesday's concert has a festive feel and is performed by the BBC Singers and the shortlisted finalists of the BBC Radio 3 Breakfast Carol Competition at St Paul's Knightsbridge. For the competition, Susan Hill's Christmas poem Can it be true?  had to be set to music by each competitor. The culmination of this process allows each of the six finalists's carols to be performed live by the BBC Singers. Thomas Tallis's seven voice mass Missa puer natus est and William Mathias's carol sequence for chorus and organ, Ave Rex conclude the concert.
The BBC Symphony Orchestra provide Thursday's live concert, in a programme conducted by Santtu-Matias Rouvali. There is the opportunity to hear violinist Esther Yoo on Sibelius's demanding Violin Concerto in D minor Op. 47 followed by Nielsen's Maskarade Overture, Fs.39, and 20th century Finnish composer Uuno Klami's Kalevala. There will also be the opportunity to hear a performance of Stravinsky's 1945 revised Firebird Suite from the Symphony Orchestra's visit to Spain this year, as well as Mozart's Violin Concerto no. 4 in D minor, K218 featuring soloist Augustin Hadelich.
Afternoon on 3's final live performances come from the Ulster Orchestra and the BBC Philharmonic Orchestra. The first half, brought to us by the UO, gives the chance to hear Sibelius's incidental Music from King Kristian II op.27, followed by Rautavaara's Symphony No. 7 "Angel of Light". Joining the BBC Philharmonic in the second part of the show will be the violinist Anthony Marwood, for a performance of Pēteris Vasks's inspired Distant Light concerto. Brahms' Symphony No. 3 completes the programme, which also features Sibelius' short Dance Intermezzo Op 45 No. 2.