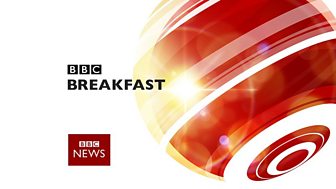 Breakfast
The latest news, sport, business and weather from the BBC's Breakfast team
On iPlayer
This programme is not currently available on BBC iPlayer
Ever wondered what it's like to be a presenter on Breakfast?

We're sorry but Breakfast isn't available on BBC iPlayer for rights reasons.

Pharrell Williams was on the show and he's put the Breakfast team in an happy mood!
Breakfast tweets
Tweets from the official BBC Breakfast account.
Content from Twitter. Learn more about content from Twitter.