Songs of Praise
Inspiring hymns and songs, together with uplifting stories of faith from around the UK and beyond.
Tickets now available for the Live Easter Eucharist at Manchester Cathedral.
The UK's top 100 hymns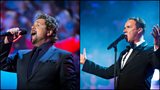 In 2013 Songs of Praise conducted a nationwide survey to find out your favourite hymns.
Send YOUR Stories of VE Day