Songs of Praise
Inspiring hymns and songs, together with uplifting stories of faith from around the UK and beyond.
Tickets available for Songs of Praise in Southampton & BBC One's Live Pentecost service.
The UK's top 100 hymns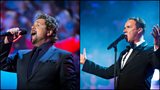 In 2013 Songs of Praise conducted a nationwide survey to find out your favourite hymns.
Send YOUR Stories of VE Day