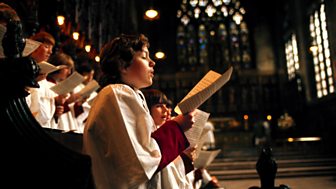 Choral Evensong
Long-running programme presenting live broadcasts of Evensong from around the country
For schedule details see below.
On radio
Wednesday 15:30
BBC Radio 3
All upcoming (1 new and 2 repeats)
Future Choral Evensong Schedule
Wed 22nd Oct
Chelmsford Cathedral
(rpt Sun 26th Oct)
within the veil (John Jordan)
Responses (Peter Nardone)
Office Hymn:  Sing praise to Christ (Engelberg)
Psalms 108, 109 (Bertalot; Hylton Stewart; Hemmings)
First lesson:  Proverbs 30 vv5-9
Canticles:  St John's College Service (Howells)
Second lesson:   Luke 9 vv1-6
Anthem:  Be strong and of good courage (Darke)
Final responses (Rose)
Hymn:  God whose city's sure foundation (Regent Square)
Organ Voluntary:  Sonata no. 6 in D minor opus 65.(Mendelssohn)
Organist and Master of the Choristers, James Davy
Assistant Organist, Laurence Lyndon-Jones
Wed 29th Oct
Royal School of Church Music Millennium Youth Choir at Gloucester Cathedral - recorded Sun 17th Aug
(rpt Sun 2nd Nov)
Introit:  Holy is the true light (Harris)
Responses:  Kerensa Briggs
Psalms 148, 150 (Stanford)
First lesson:  Isaiah 65.17-25
Canticles: Gloucester Service (Owain Park)
Second lesson:  Hebrews 11.32-12.2
Anthems:  We love the place, O God (Sumsion)
Justorum animae (Stanford)
Hymn:  For all the saints (Sine nomine)
Organ Voluntary:  Festivo (Ronald Corp)
David Ogden (Director of Music)
Daniel Moult (Organist)
Wed 5th Nov
a recording from the Choral Evensong archive
(rpt. Sun 9th Nov)
An archive broadcast from Christ Church Cathedral Oxford, first transmitted in 1974.
Responses: Byrd
Psalms: 32, 33, 34 (Wood; Camidge; Parratt)
First Lesson: Genesis 41.46-57
Canticles: Sancti Johannis Cantabrigiense (Tippett)
Second Lesson: Revelation 4
Anthem: Laudibus in Sanctis (Byrd)
Organ Voluntary: Rhapsody in C sharp minor (Howells)
Organist: Simon Preston
Assistant Organist: Nicholas Cleobury
Wed 12th Nov
Durham Cathedral
(rpt. Sun 16th Nov)
Responses:  Francis Jackson
Psalms:  65, 66 and 67 (Taylor; Gray; Camidge)
First lesson:  Isaiah 6       
Canticles:  John Casken
Second lesson:  Matthew 5.21-37
Anthem:  Jesu, the very thought of thee (Cecilia McDowall)
Hymn:  The sun is sinking fast (Binham)
Organ Voluntary:  Sacrificium (John Casken)
Master of the Choristers and Organist:  James Lancelot
Sub-Organist:  Francesca Massey
Wed 19th Nov
Clare College, Cambridge
(rpt. Sun 23rd Nov)
Introit: Let all the world in every corner sing (Nico Muhly) - first broadcast
Responses: Joshua Pacey - first broadcast
Psalms 98, 99, 100, 101 (Stanford; Lloyd; Attwood; Hopkins)
First Lesson: Isaiah 2: 1-11
Office Hymn: As we remember, Lord, thy faithful handmaid (Iste Confessor)
Canticles: William Denis Browne in A
Second Lesson: John 6: 22-34
Anthem: The fear of the Lord (Howells)
Final Hymn: How shall I sing that majesty (Coe Fen)
Blessing: A Clare Benediction (John Rutter)
Organ Voluntary: Prélude et Danse Fuguée (Gaston Litaize)
Director of Music: Graham Ross
Senior Organ Scholar: Matthew Jorysz
Cello: Benjamin Michaels
Wed 26th Nov
Leeds Cathedral
(no repeat)
Organ Prelude:  Celui qui a des oreilles, qu'il écoute from Cinq méditations sur l'Apocalypse (Langlais)
Introit:  Laetatus sum (Scarlatti)
Hymn:  Caeli Deus sanctissime (Gregorian)             
Psalms:  62, 67 (Saunders; Roberts)
Canticle:  Colossians 1:12-20 (Bevenot)
Reading:  Philippians 2:1-11
Magnificat primi toni, (John Duggan) first broadcast
Homily:  Fr Philip Moger
Anthem:  Insanae et vanae curae (Haydn)
Marian antiphon:  Salve regina (Gregorian)
Organ Voluntary:  Visions prophétiques from Cinq méditations sur l'Apocalypse (Langlais)
Director of Music:  Benjamin Saunders
Organist:  Daniel Justin
Sun 30th Nov
A service for Advent  with carols
St John's College, Cambridge
Wed 3rd Dec
Westminster Abbey
(rpt. Sun 7th Dec)
Introit:  Vigilate (Byrd)
Responses:  Radcliffe
Psalms 77, 80 (Mann; Attwood, Barnby)
Lessons:  Isaiah 65:17 -  66:2, Matthew 24:1-14
Canticles:  Howells in G  
Anthem:  A song of the new Jerusalem (Matthew Martin)
Hymn:   Wake, o wake! With tidings thrilling (Wachet auf)
Organ voluntary:   Chorale prelude on 'St Thomas' (Parry)
James O'Donnell (Organist and Master of the Choristers)
Daniel Cook (Sub-Organist)
Weds 10th Dec
St Martin-in-the-fields, London
(rpt. Sun 15th Dec)
Weds 17th Dec
Manchester Cathedral
(rpt. Sun 21st Dec)