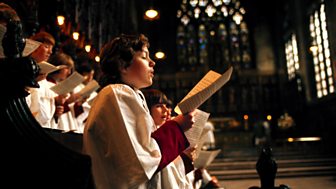 Choral Evensong
Long-running programme presenting live broadcasts of Evensong from around the country
On radio
Tomorrow 15:30
BBC Radio 3
All upcoming (0 new and 1 repeat)
Choral Evensong Schedule
Weds 7th September (repeated Sun 11th September)
Recorded at St Clement Danes Church, London, and sung by Genesis Sixteen
Introit: Thou knowest, Lord, the secrets of our hearts (Purcell)
Responses: Bernard Rose
Psalm 37 (Foster, Hylton Stewart, Greene, Howells)
First Lesson: Proverbs 2 vv.1-15
Magnificat in B flat for double choir (Stanford)
Second Lesson: Colossians 1 vv.9-20
Nunc Dimittis (Plainsong)
Anthem: A Feast Song for St Cecilia (Bernard Rose)
Hymn: Dear Lord and Father of mankind (Repton)
Organ Voluntary: An Occasional Trumpet Voluntary (Patrick Gowers)

Conductors: Harry Christophers, Eamonn Dougan, Sarah Latto
Organist: Matthew Martin 
Weds 14th September (repeated Sun 18th September)
Danilov Monastery, Moscow
An Archive recording from 2005 of Orthodox Vespers for the Feast of the Exaltation of the Precious and Life-giving Cross from the Trinity Cathedral in the Danilov Monastery, the oldest monastery in Moscow, reconsecrated in 1988 after decades as a boys' prison and now the official residence of the Russian Patriarch. 
The Cathedral Choir directed by Georgi Safonov sings music by Dodonov, Chesnokov, Goncharov and Trubachev. The Gospel for the day is John 12 vv28-36. 
Archpriest Andrei Teterin gives the homily and the commentator is Canon Michael Bourdeaux. 
Weds 21st September (repeated Sun 25th September)
Live from Canterbury Cathedral on the Feast of St Matthew the Apostle

Introit: Let us all rejoice (Gabriel Jackson)
Responses: Christopher Gower
Office Hymn: Let the round world with songs rejoice (Exultet coelum)
Psalm 106 (Smart, Goss, Ouseley)
First Lesson: Ecclesiastes 5 vv.4-12
Canticles: Arvo Pärt
Second Lesson: Matthew 19 vv.16-30
Anthem: Loquebantur variis linguis (Tallis)
Final Hymn: He sat to watch o'er customs paid (Canterbury)
Organ Voluntary: Sonata – first movement (Whitlock)

Organist and Master of the Choristers: David Flood
Assistant Organist: David Newsholme
Weds 28th September (repeated Sun 2nd October)
Live from Westminster Abbey on the Eve of the Feast of St Michael and All Angels, celebrating the first broadcast of Choral Evensong from the Abbey on 7 October 1926

Introit: Plebs Angelica (Tippett)
Responses: Rose
Psalms 34, 91 (Bevan, Alcock)
First Lesson: 2 Kings 6 vv.8-17
Canticles: Second Service (Gibbons)
Second Lesson: Matthew 18 vv.1-10
Anthem: Faire is the heaven (Harris)
Hymn: Ye watchers and ye holy ones (Lasst uns erfreuen)
Organ Voluntary: Toccata: Uriel, with the fire of God (Neil Cox)

Organist and Master of the Choristers: James O'Donnell
Sub-Organist: Daniel Cook
Weds 5th October (repeated Sun 9th October)
Celebrating 90 years of Choral Evensong Broadcasts
Archive recording of the Memorial Evensong for Sir George Thalben-Ball (Music Advisor to the Head of Religious Broadcasting 1941-1969) which was broadcast live from Holy Trinity Church, Sloane Street, London on 28 January 1988

Organ Prelude: Elegy in F (Thalben-Ball)
Introit: Requiem aeternam (Thalben-Ball)
Responses: Tallis
Psalm 103 (Walford Davies)
First Lesson: Ecclesiasticus 44 vv.1-15
Office Hymn: Brightest and best (Jesmian)
Canticles:Walford Davies in G (Temple Chant setting)
Second Lesson: Colossians 3 vv.1-17
Anthem: Comfort ye my people (Thalben-Ball)
Final Hymn: Holy Father, cheer our way (Carsaig)
Organ Voluntary: Elegy in B flat (Thalben-Ball)

BBC Singers directed by John Poole and Barry Rose
Organists: Barry Rose and Andrew Lumsden
Weds 12th October (repeated Sun 16th October)
Live from St George's Chapel, Windsor Castle

Introit: Laudate nomen Domini (Tye)
Responses: Radcliffe
Psalms 65, 66, 67 (Day, Atkins, Bairstow)
First Lesson: 2 Chronicles 34 vv.19–33
Canticles: The Sixth Service (Weelkes)
Second Lesson: John 15 vv.18-27
Anthem: The Spirit of the Lord (Elgar)
Hymn: Ye holy angels bright (Darwall's 148th)
Organ Voluntary: Fantasia and Fugue in G (Parry)

James Vivian (Director of Music)
Richard Pinel (Assistant Director of Music)
Weds 19th October (repeated Sun 23th October)
Live from Birmingham Cathedral

Introit: Jesu, the very thought of thee (Harry Grindle)
Responses: Byrd
Psalms 98, 99, 100, 101 (Attwood, Ouseley, Barnby)
First Lesson: Hosea 14 vv.1-7
Office Hymn: O Trinity of blessed light (Creator alme)
Canticles: Antony le Fleming
Second Lesson: 2 Timothy 4 vv.1-8
Anthem: The Wilderness (S S Wesley)
Final Hymn: Soldiers of Christ, arise (From strength to strength)
Organ Voluntary: Sonata No 2 - third and fourth movements (Mendelssohn)

Director of Music: Canon Marcus Huxley
Assistant Director of Music: David Hardie
Weds 26th October 
Archive Recording of the Oxford Blues Service - a complete Jazz setting composed by Roderick Williams and sung in the University Church of St Mary the Virgin in 2006 by Schola Cantorum of Oxford

Introit: Gray skies passing over (Williams)
Psalm 106 (Williams) 
Readings: Isaiah 55 vv.1-9 and Mark 2 vv.15-28 
Anthem: Sing unto the Lord a new song (Williams) 
Hymn: I wish I knew how it would feel to be free (Tune: Billy Taylor arr Williams)

Director of Music: James Burton
Organist: Robert Houssart
Piano: Colin Good
Bass: Jerome Davies
Drums: Charlie Stratford
Weds 2nd November (repeated Sun 6th November) All Souls
New College, Oxford - Mozart Requiem
Archive recording for All Souls' Day of a liturgical performance of Mozart's Requiem in D minor K.626 from the Chapel of New College, Oxford, on 12 January 2011. The soloists Jonty Ward (treble), Hugh Cutting (alto), Guy Cutting (tenor), and Jonathan Howard (bass) are drawn from the Choir of New College and they are accompanied by the European Union Baroque Orchestra directed by Edward Higginbottom.

Weds 9th November (repeated Sun 13th November)
Ely Cathedral
Live from Ely Cathedral

Introit: The Spiritual Railway (Arthur Wills)
Responses: Arthur Wills
Psalms 47, 48, 49 (Beckwith, Walmisley, Elvey)
First Lesson: Leviticus 26 vv.3-13
Office Hymn: Most holy Lord and God of heaven (Plainsong)
Canticles: Verse Service (Arthur Wills)
Second Lesson: Philippians 4 vv.4-9
Anthem: O pray for the peace of Jerusalem (Howells)
Final Hymn: What shall we pray for those who died? (John Bell)
Organ Voluntary: Elegy (Arthur Wills)

Directors of Music: Sarah MacDonald and Paul Trepte
Organists: Edmund Aldhouse and Alexander Goodwin
Weds 16th November (repeated Sun 20th November)
Bristol Cathedral
Details to follow.
Weds 23rd November 
Wakefield Cathedral (no repeat)
Details to follow.
Sunday 27th November (Advent Sunday)
St John's College, Cambridge
Details to follow.
Weds 30th November (repeated Sun 4th December)
Portsmouth Cathedral
Details to follow.
Weds 7th December (repeated Sun 11th December)
St Paul's Cathedral
Details to follow.
Weds 14th December (repeated Sun 18th December)
TBC
Details to follow.
Weds 21st December 
TBC - archive
 Details to follow.
Weds 28th December (repeated Sun 1st January)
Rodolfus Choir at St Gabriel's Church, Pimlico
Details to follow.