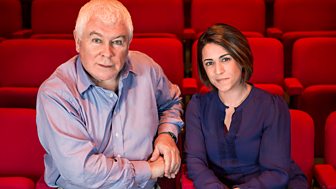 In Tune
News, views and an eclectic choice of live and recorded music, plus developments from the arts world
IN TUNE DIGITAL RADIO COMPETITION 2014
1. The competition is open to all residents of the UK, the Channel Islands and the Isle of Man, except BBC employees, their close relatives and anyone connected with the competition.
2. The competition will be run from Monday 8th December until 17:00 on Thursday 11th December 2014 during the In Tune programmes on Radio 3. Entry to the competitions is by email to in.tune@bbc.co.uk . A question will be asked in the Monday edition of the In Tune programme and repeated during In Tune on the Tuesday, Wednesday and Thursday. Entries must be received before 24:00 on 11th December 2014.


3. All entrants must supply their names, address and a contact telephone number at which they can be reached. Illegible entries or those received outside the opening times will not be considered.


4. The winning entrants will be the first 25 correct entries drawn at random after the closing time.


5. The competition prizes are 25 Digital Radio sets, from varied commercial brands. For the avoidance of doubt there are no other fees, expenses or costs offered by the BBC.


7. Entrants must be 16 and over (on the closing date of 11th December 2014). 


8. The prizes are as stated. There is no cash alternative, it must not be offered for sale and it is not transferable.


9. The BBC's decision as to the winners is final. No correspondence relating to the competition will be entered into. Any breach of these rules may result in the prizes being forfeited.


10. Each winner will be notified by telephone (to the number provided by entrant) and will be posted their prize asap. If the winner does not supply a telephone number on their entry we will endeavour to contact them by email, the winner has 48hrs to reply to this email, after this point we will withdraw their successful entry and allocate to the next randomly selected entry.


11. Only one entry is allowed per entrant. Additional subsequent entries will not be considered.
12. Entrants must agree to take part in any post-competition publicity


13. The BBC reserves the right to cancel or vary a competition at any stage, if deemed necessary in its opinion, or if circumstances arise beyond its control.


14. If a winner is unable to be contacted after reasonable attempts have been made the BBC reserves the right to offer the prize to the entrant whose name is next drawn at random.


15. The BBC will only ever use personal details for the purposes of administering this competition, and will not publish them or provide them to anyone without permission. You can read more about the BBC Privacy Policy at www.bbc.co.uk/privacy.


16. The BBC Code of Conduct for competitions applied and can be found at www.bbc.co.uk/competitioncode
Come and see us live!