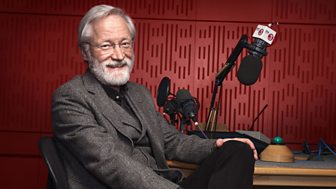 Composer of the Week
Long-running series taking a composer as its subject for one or more programmes and exploring their life and work.
On radio
Next Monday 12:00
BBC Radio 3
All upcoming (4 new and 7 repeats)
The programme was first heard in 1943. Read a blog post by producer Chris Taylor

Donald and Sandra Tuppen, Curator of Music Manuscripts at BL, view letters from Dvorak.
Forthcoming composers
Week Beginning
13th October Debussy
20th October Bach
27th October Khachaturian
3rd November Stradella
10th  November Mozart
17th November Big Bands
24 th November Da Falla
Previous composers are listed here
Composer of the Week at 70