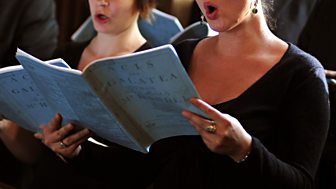 The Choir
Exploring all things choral, with performances and special features with presenter Sara Mohr-Pietsch.
Meet My Choir
Every week, at around 4.30pm, we are handing the airwaves over to you, the choristers of Great Britain.
In our new 'Meet my Choir' feature, we want you hear all about you and about your choir.  What inspires you to sing?  And what makes your choral comrades special?  If there's something you're simply bursting to tell us about your local group, why not make us a recording, and we'll do the rest! 
To take part, contact us for a factsheet at thechoir@bbc.co.uk
Apply for free tickets for a special live The Choir show on Sunday 4th May in Laugharne, Wales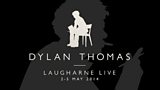 Join us on Sunday 4th May in the beautiful town of Laugharne in Carmarthenshire, Wales, for a special live edition of The Choir. We'll be one of a number of shows taking part in Laugharne Live, a free radio festival within the grounds of Laugharne Castle from Friday 2 May - Monday 5 May 2014, to celebrate the life and work of Dylan Thomas.
Guest performers WNO Youth Opera, present a new choral setting of Dylan Thomas' Fern Hill, composed by Julian Phillips. Sara Mohr-Pietsch also hears from local ensemble, The Corran Singers, for a unique live edition of her regular feature, Meet my Choir.
Free tickets are available from www.bbc.co.uk/dylanthomas
The castle will play host to a series of live and pre-recorded radio broadcasts, shows and performances from BBC Radio Wales, BBC Radio Cymru, BBC Radio 3, BBC Radio 4 and BBC 6 Music offering an exciting mix of music and poetry from the main marquee and we welcome you to BBC Radio Wales' outdoor performance stage where its shows will be broadcasting live across the weekend.