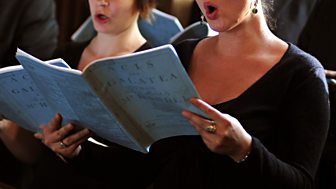 The Choir
Exploring all things choral, with performances and special features with presenter Sara Mohr-Pietsch.
On radio
Next Sunday 16:00
BBC Radio 3
All upcoming (0 new and 1 repeat)
Meet My Choir
Every week, at around 4.30pm, we are handing the airwaves over to you, the choristers of Great Britain.
In our new 'Meet my Choir' feature, we want you hear all about you and about your choir.  What inspires you to sing?  And what makes your choral comrades special?  If there's something you're simply bursting to tell us about your local group, why not make us a recording, and we'll do the rest! 
To take part, contact us for a factsheet at thechoir@bbc.co.uk