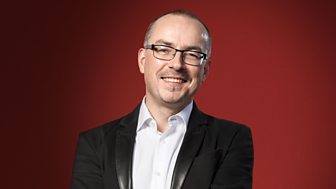 CD Review
Visit the new CD Review homepage and explore our Building a Library recommendations. See below for details.
Visit the extensive audio archive of Radio 3 programmes about Composers and their works.
Radio 3: Record Store Day

We're celebrating those enthusiastic, inventive independent classical retailers today. We've given listeners an (entirely virtual) £50 to spend on classical recordings. Here are some of their comments and selections.
You've been tweeting and emailing your #RecordStoreDay choices:

On duty in the CD Review studio for #RecordStoreDay, Andrew Mcgregor at the desk and (l-r) Chris O'Reilly from Presto Classical and James Jolly from Gramophone Magazine.

Chris and James each spent an entirely virtual (no cash changed hands!) £50 on records. Here are their lists, with manuscript additions. First. Chris O'Reilly's:

And James Jolly's:
Record Store Day on CD Review