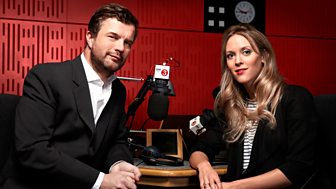 Breakfast
Radio 3's breakfast show, waking the UK up with the finest classical music in the best performances
In October 1917, Russia was operating 13 days behind much of the rest of Europe...

Here's everything you need to know about our competition for amateur composers.

Get in touch to let us know about the music you want to hear on Radio 3 Breakfast.

Sometimes Breakfast may use listener recordings. Click here for terms and conditions.

Radio 3 challenged him to write a new piece every week for 70 days. Here's what happened.

In 2013 we asked listeners to suggest music associated with places in the U.K.

Drawing from her amazing singing career Dame Kiri selects her 20 favourite voices.
Breakfast
Petroc Trelawny and Clemency Burton-Hill wake up the UK with all you need to start your day at 6.30am every weekday, whilst Martin Handley eases you into the weekend on Saturday and Sunday from 7.00am.

There's the best in classical music in the finest performances, the latest BBC News, highlights from the day's papers, personalised Wake Up Calls, and your chance to introduce a piece of music and hear it on air.

To tell us about the music that you want to wake up to, or music you want to introduce on air, e-mail us at 3breakfast@bbc.co.uk, write to BBC Radio 3 Breakfast, Broadcasting House, London W1A 1AA or get in touch via the Radio 3 Facebook page.
See the BBC's Privacy & Cookies page for more information, at www.bbc.co.uk/privacy