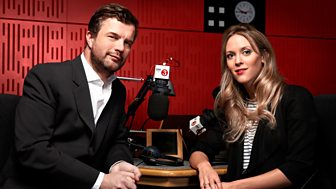 Breakfast
Radio 3's breakfast show, waking the UK up with the finest classical music in the best performances
Can you set Roger McGough's specially-written 'Comes the Light' poem to music?

Vote now for who you think is The Greatest Jazz Artist of all time

Get in touch to let us know about the music you want to hear on Radio 3 Breakfast.

A playlist of music suggestions to send shivers up your spine.

A playlist of music suggestions for all things watery - rivers, lakes, fountains, rain...

Drawing from her amazing singing career Dame Kiri selects her 20 favourite voices.

In 2013 we asked listeners to suggest music associated with places in the U.K.

Check the overall winner and download all of the shortlisted carols as podcasts.
Breakfast
Petroc Trelawny and Clemency Burton-Hill wake up the UK with all you need to start your day at 6.30am every weekday, whilst Martin Handley eases you into the weekend on Saturday and Sunday from 7.00am.

There's the best in classical music in the finest performances, the latest BBC News, highlights from the day's papers, personalised Wake Up Calls, and your chance to introduce a piece of music and hear it on air.

To tell us about the music that you want to wake up to, or music you want to introduce on air, e-mail us at 3breakfast@bbc.co.uk, write to BBC Radio 3 Breakfast, Broadcasting House, London W1A 1AA or get in touch via the Radio 3 Facebook page.
See the BBC's Privacy & Cookies page for more information, at www.bbc.co.uk/privacy
Haiku for Breakfast - light side up
We're celebrating National Poetry Day's theme of Light this year on Radio 3 Breakfast by asking you to write a haiku on the theme of light, and in response to some pieces of music that you'll hear on the show.
A haiku is an old Japanese form that can have a number of definitions, but the one I work with is that it has three lines, with the first line having five syllables, the second line having seven syllables, and the third line having five. Often the haiku is about nature, and sometimes the third line illuminates the first two.
The advantage (and the possible challenge) of the haiku is that it is brief. It calls for economy of language, it insists that no words is wasted.
So, have a go. It's a bit of fun. Music is non-linguistic, of course, but it's always interesting to try and write about it, as we always find with the Proms Poetry Competition. I look forward to reading your Haiku on Thursday!
Here's one by me to start you off, based on The Lark Ascending…
Morning's liquid light
Moving in feathered music
Across dawn's blue page
Ian McMillan
Radio 3 Sleep Competition: Terms & Conditions
1. The competitions are open to all residents of the UK, the Channel Islands and the Isle of Man, except BBC employees, their close relatives and anyone connected with the competition.
2. The competition will be run from Friday 18th September on Breakfast and In Tune, Saturday 19th September and Sunday 20th on Breakfast only, Monday 21st and Tuesday 22nd on Breakfast and In Tune. Entry to the competitions is by email only to whymusic@bbc.co.uk. A question will be asked Answers must be received by no later than midnight on the Tuesday 22nd
3. All entrants must supply their names and a contact telephone number at which they can be reached. Illegible entries or those received outside the opening times will not be considered.
4. The winning entrants will be the first 10 correct entries drawn at random after the closing time.
5. The winners will be offered the opportunity to attend the world premiere live performance of Max Richter's Sleep at the Wellcome Collection, 183 Euston Rd, London NW1 2BE.  The performance takes place at the Reading Room at the Wellcome Collection. . A camping bed will be provided for the 8 hour live performance. Attendees will need to arrive by 11pm on the date of the broadcast, a full briefing will be sent out in advance to successful winners.  For the avoidance of doubt there are no other fees, expenses or costs offered by the BBC.
6. The event involves sleeping in an unusual location surrounded by delicate historical objects. Eating is not permitted in the event space and only bottled water is allowed. If you have unusual sleeping requirements you will be asked about this if successful, we will do our best to accommodate requirements but this may not be possible.  The BBC reserves the right to refuse entry or to eject participants.
7. Please be aware that any event in Wellcome Collection may be photographed, filmed or otherwise recorded for the purpose of furthering the Wellcome Trust's charitable objective of promoting public engagement with science, through whatever medium worldwide. Images and footage will be used by the BBC and Max Richter for future projects and publicity.   By participating in the event you may be asked to take part in other media interviews.
8. This competition is open for entrants aged 18 years or older. Ticket holders are responsible for checking and observing admission requirements to the venue.
9. The prizes are as stated. There is no cash alternative, it must not be offered for sale and it is not transferable.
10. The BBC's decision as to the winners is final. No correspondence relating to the competition will be entered into. Any breach of these rules may result in the prizes being forfeited.
11. Each winner will be notified by telephone (to the number provided by entrant) and will be required to collect their prize from the Wellcome Collection.
12. Only one entry is allowed per entrant
13. Entrants must agree to take part in any post-competition publicity
14. The BBC reserves the right to cancel or vary a competition at any stage, if deemed necessary in its opinion, or if circumstances arise beyond its control.
15. If a winner is unable to be contacted after reasonable attempts have been made the BBC reserves the right to offer the prize to the entrant whose name is next drawn at random.
16. The BBC will only ever use personal details for the purposes of administering this competition, and will not publish them or provide them to anyone without permission. The BBC will only keep your details for as long as is necessary and within the BBC's Privacy Policy. You can read more about the BBC Privacy Policy at www.bbc.co.uk/privacy.
17. The BBC Code of Conduct for competitions applied and can be found at www.bbc.co.uk/competitioncode
18. This competition is promoted by the BBC. The laws of England and Wales shall apply to these Terms and Conditions.