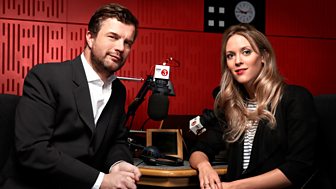 Breakfast
Radio 3's Breakfast Show, waking the UK up with the finest classical music in the best performances.
Playlists for Monday to Friday are available online by midday after each broadcast.
Playlists for Saturday and Sunday are available online by midday the following Monday
Explore the playlist so far, as we add a British musical work every day throughout 2014.
Breakfast
Petroc Trelawny and Clemency Burton-Hill wake up the UK with all you need to start your day at 6.30am every weekday, whilst Martin Handley eases you into the weekend on Saturday and Sunday from 7.00am.

There's the best in classical music in the finest performances, the latest BBC News, highlights from the day's papers, personalised Wake Up Calls, and your chance to introduce a piece of music and hear it on air.

To tell us about the music that you want to wake up to, or music you want to introduce on air, e-mail us at 3breakfast@bbc.co.uk, write to BBC Radio 3 Breakfast, Broadcasting House, London W1A 1AA or get in touch via the Radio 3 Facebook page.
See the BBC's Privacy & Cookies page for more information, at www.bbc.co.uk/privacy
BBC Radio 3 Breakfast Christmas Carol Competition 2014
Here on Breakfast we want to celebrate Christmas 2014 in a special way, and to help us to do that we've asked acclaimed author Susan Hill to write a Christmas poem for us. What we'd like you to do is set Susan's poem, 'Can it be true?' and compete for your carol to be an important part of Radio 3's Christmas celebrations. A shortlist of six entries will be performed live on air by the the BBC Singers.
Entrants must be over the age of 16 at the closing date and not previously had a composition published by a professional publishing company. Click here for the full details.
Please read the full terms and conditions.
The Specialist Classical Chart
The Specialist Classical Chart is announced during the Monday editions of In Tune, with music selected from the Chart played in Breakfast at 8am on Fridays.
Best of British on BBC Playlister