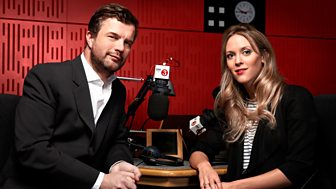 Breakfast
Radio 3's breakfast show, waking the UK up with the finest classical music in the best performances
A playlist of music suggestions for all things watery - rivers, lakes, fountains, rain...

Get in touch to let us know about the music you want to hear on Radio 3 Breakfast.

Drawing from her amazing singing career Dame Kiri selects her 20 favourite voices.

A playlist of listeners' suggestions for music to inspire great journeys.

In 2013 we asked listeners to suggest music associated with places in the U.K.

Check the overall winner and download all of the shortlisted carols as podcasts.
Breakfast
Petroc Trelawny and Clemency Burton-Hill wake up the UK with all you need to start your day at 6.30am every weekday, whilst Martin Handley eases you into the weekend on Saturday and Sunday from 7.00am.

There's the best in classical music in the finest performances, the latest BBC News, highlights from the day's papers, personalised Wake Up Calls, and your chance to introduce a piece of music and hear it on air.

To tell us about the music that you want to wake up to, or music you want to introduce on air, e-mail us at 3breakfast@bbc.co.uk, write to BBC Radio 3 Breakfast, Broadcasting House, London W1A 1AA or get in touch via the Radio 3 Facebook page.
See the BBC's Privacy & Cookies page for more information, at www.bbc.co.uk/privacy
The Specialist Classical Chart
The Specialist Classical Chart is announced during the Monday editions of In Tune, with music selected from the Chart played in Breakfast at 8am on Fridays.
Proms Competition 2015: Terms & Conditions
1. The competitions are open to all residents of the UK, the Channel Islands and the Isle of Man, except BBC employees, their close relatives and anyone connected with the competition.
2. Competitions will be run every week from Monday 6th July until 5pm on Friday 11th September 2015 during the In Tune and Breakfast programmes on Radio 3. Entry to the competitions is by email to promscompetition@bbc.co.uk or by post to IN TUNE PROMS COMPETITION, BBC RADIO 3, ROOM 1015, BROADCASTING HOUSE PORTLAND PLACE, LONDON W1A 1AA. A question will be asked in the Monday edition of the In Tune programme and repeated in Breakfast and In Tune on the Tuesday and in Breakfast on Wednesday. Answers must be received by no later than 5pm on the following Friday during the competition period.
3. All entrants must supply their names and a contact telephone number at which they can be reached. Illegible entries or those received outside the opening times will not be considered.
4. The winning entrant each week will be the first correct entry drawn at random after the closing time or the first two in the case of prizes for the first and last nights.
5. Save as mentioned in 6. below, each prize consists solely of one pair of tickets to a Prom concert at the Albert Hall in Kensington and no travel, accommodation or other costs will be included.
6. For the competitions offering tickets to the First Night of the Proms there will be two winners and the prize for each will include one pair of tickets for the first night of the Proms. For the competition offering tickets to the Last Night of the Proms there will be two winners and the prize for each will include one pair of tickets for the last night of the Proms. For the First Night there will be no travel, accommodation or any other expenses offered.  For the Last Night the Prize will also include return travel from anywhere in the UK, the Channel Islands or the Isle of Man, and accommodation for 2 people (one room for winner and guest) in London for one night including breakfast. The BBC reserves the right to choose the method of travel. For the avoidance of doubt there are no other fees, expenses or costs offered by the BBC.
7. Children under 16 can only attend the Prom concerts if accompanied by an adult. Ticket holders are responsible for checking and observing admission requirements to the venue.
8. The prizes are as stated. There is no cash alternative, it must not be offered for sale and it is not transferable. 
9. The BBC's decision as to the winners is final. No correspondence relating to the competition will be entered into. Any breach of these rules may result in the prizes being forfeited.
10. Each winner will be notified by telephone (to the number provided by entrant) and will be required to collect the prize at the Royal Albert Hall box office on the day of the concert. 
11. Only one entry is allowed per entrant per weekly competition. Winners are not eligible to re-enter in future rounds of this competition.
12. Entrants must agree to take part in any post-competition publicity
13. The BBC reserves the right to cancel or vary a competition at any stage, if deemed necessary in its opinion, or if circumstances arise beyond its control. 
14. If a winner is unable to be contacted after reasonable attempts have been made the BBC reserves the right to offer the prize to the entrant whose name is next drawn at random.
15. The BBC will only ever use personal details for the purposes of administering this competition, and will not publish them or provide them to anyone without permission. The BBC will only keep your details for as long as is necessary and within the BBC's Privacy Policy. You can read more about the BBC Privacy Policy at www.bbc.co.uk/privacy. 
16. The BBC Code of Conduct for competitions applied and can be found at www.bbc.co.uk/competitioncode