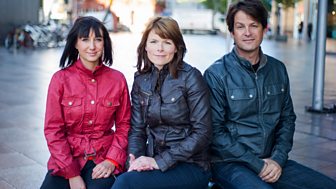 X-Ray
The Welsh consumer show fighting for YOUR rights. With Lucy and Rhodri Owen and Rachel Treadaway-Williams.
On TV
There are no upcoming broadcasts of this programme
Last on
Mon 27 Jul 2015 19:00
BBC One Wales, Wales HD only
Scammers Beware: The X-Ray Team Is back
It's the time of year that cowboy builders, rogue traders and every scammer west of Offa's Dyke dreads.
The X-Ray team are back in the office to expose their dodgy dealings.
If you have been badly treated by a business now's the time to get in touch and we'll do our best to help 
The number: 03703 334 334 
The email: xray@bbc.co.uk
Or you can write to us: X-Ray, Room 4020, BBC Wales, Broadcasting House, Llandaff, Cardiff CF5 2YQ.
We'll be back on your screens at the beginning of October.