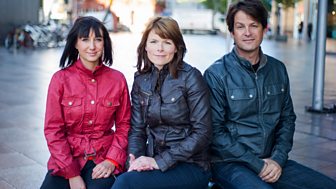 X-Ray
The Welsh consumer show fighting for YOUR rights. With Lucy and Rhodri Owen and Rachel Treadaway-Williams.
On TV
There are no upcoming broadcasts of this programme
Last on
Mon 30 Mar 2015 19:30
BBC One Wales, Wales HD only
X-Ray Specials
X-Ray's not on air until the autumn – but we are working on a couple of special programmes to keep you going over the summer.
The team is now working on an election special – explaining everything you need to know about the 2015 poll.
Then they are moving on to an hour-long holiday special – and we want to hear what happened to you on holiday.
You can contact the programme on xray@bbc.co.uk or you can call our audience line on 03703 334 334.
In the summer the team will start preparing for the autumn run – and we'll be looking to investigate everything from cowboy call centres to dodgy builders and rip-off retailers. In fact – we'll happy to look into pretty much any business which has left you disappointed or out of pocket.
Follow us on Twitter @bbcxray for the latest on what we're up to!