Tony Archer
Tony is a meat-and-two-veg man; organic veg, that is.
| Fact title | Fact data |
| --- | --- |
| Played by: | Colin Skipp |
| Born: | 16 February 1951 |
| Status: | Married to Pat Archer |
| Occupation: | Farmer |
| Lives at: | Bridge Farm |
Forming one half of the successful Bridge Farm partnership, with wife Pat shoring up the other side, he's never knowingly caught being cheerful.
He graduated from agricultural college with a distinction, but he prefers plodding to proaction. The fact that Pat proposed to him should have warned him who was going to wear the trousers.
My back's killing me, but I've got to press on with the leeks.Tony Archer
Likes - His classic MG Midget, Pat's roast dinners
Dislikes - Garlic, moving with the times
Highs - Securing the freehold on Bridge Farm
Lows - Discovering son John lying dead in a ditch under his tractor, ageeing to sell off the cows
Colin Skipp
Colin was awarded a scholarship to RADA and on graduation acted in several repertory companies (Century Theatre; Manchester; Plymouth; Wolverhampton; Frinton; Kidderminster; Guernsey; Sheffield).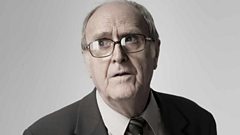 BBC Producer Tony Cornish saw him in Birmingham and cast him in two TV plays, as Cliff in Look Back in Anger and as Geoff in A Taste of Honey. He was also in three TV series, as Ivan the trainer in United; Pitt in Rainbow City; and The Newcomers.
Colin also acted in several radio plays and it was in one of these, A Tale of Two Men, that he played a sixteen year old schoolboy. The writers and producer of The Archers heard this performance and asked Colin to audition for the part of young Tony.
Away from The Archers Colin directs stage plays. He has directed the premieres of three original plays: Shakespeare Country by Peter Whelan; Meet Aunt Mildred by Don Carroll; and Immortal Beloved by Francis Wise. He has directed in theatres in Manchester, Bolton, St Annes (where he directed for Bill Kenwright's repertory company) and Guernsey, where he met his wife, actress Lisa Davies.
He directed a play based on the career of Julie Andrews, The Sound of Julie, in which Julie herself was played by Colin's daughter, well-known West End actress Nova Skipp.
When Nova presented Colin with his first granddaughter, Melody Grace, Colin was absolutely smitten and delighted. Nova and her husband live only a ten minute walk from Colin and his wife Lisa in Surrey.
Other career highlights
Playing the King himself was a tremendous challengeColin Skipp
I think the biggest highlight of my career was being cast by the LCC Shakespeare tour of 'King Lear'. Playing the King himself was a tremendous challenge, particularly as I was only in my twenties. But then of course youth has the strength and confidence (or rather ignorance?) the part demands.
Archers highlights
Meeting each character for the first time is always memorable – but saying goodbye to them when they leave the series can be extremely sad. When Tony's son John was killed in a tractor accident I was so sorry that the actor, Sam Barriscale, wanted to leave in this way. When I acted in the final scene I was aware of how it would be received by the listeners and found the experience very emotional.
Tony's marriage to Pat is enjoyable. As time goes by I feel extremely lucky to have Pat Gallimore, a brilliant actress, as my radio wife.
Colin on Tony
I always feel that Tony is the opposite of myself, brawny rather than brainy. We both have the same sense of humour though, very childish, schoolboy-ish. Tony is very kind; I'd very much like him as a best friend.
Favourite
Actor - Laurence Olivier – I saw him on stage several times and was invited to the opening of the National Theatre (at the Old Vic) where he directed Hamlet. Later I saw his acting here in Uncle Vanya and Othello. Every time he performed I was totally in awe and thrilled.
Book - Of Mice and Men by John Steinbeck – it has a basic humanitarian message inside a good narrative story.
Film - Citizen Kane – Orson Welles' first film which set the standard for any dramatic film I saw afterwards. Lust for Life – Biopic of artist Vincent van Gogh. To my mind the greatest "living of a part" by a film star Kirk Douglas.