Kirsty Miller
Pretty Kirsty is never short of male attention. Unfortunately it frequently seems to be the wrong male.
| Fact title | Fact data |
| --- | --- |
| Played by: | Annabelle Dowler |
| Status: | Engaged to Tom Archer |
| Occupation: | Shop assistant / bar staff |
| Works at: | Ambridge Organics / Jaxx Bar |
She probably has a phobia of candlelit restaurants, having twice been jilted in such surroundings. Tom Archer dumped her for the dubious charms of a supermarket buyer, and Sam Batton chose the same method when he was embarking on his unconsummated affair with Ruth Archer.
But when Tom's long term relationhip with Kirsty's friend Brenda Tucker failed in 2013, Kirsty and Tom got back together. They were engaged by Christmas. 
Fingers crossed, eh?
Is it something I said? Kirsty Miller
Likes - Wlidlife (she's a volunteer with the local trust), clubbing, singing
Dislikes - Bloodsports, religion - and candlelit restaurants
Highs - Still waiting
Lows - Her ignominious dismissal by Sam Batton
Key relationships
Tom Archer (Fiance)
Brenda Tucker (Friend)
Helen Archer (Employer and friend) - at Ambridge Organics
Brian Aldridge (Foe) - an eco-warrior in her time, she distrusts his farming methods
Patrick Hennessey (Friend) - She often helps him with Wildlife Trust work
Annabelle Dowler
Annabelle was born and brought up in Formby, near Liverpool. After a Spanish and Drama degree at Bristol University, she trained at Webber Douglas Academy of Dramatic Art, graduating in 1998.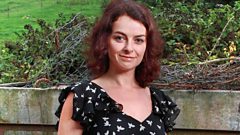 Since then Annabelle has undertaken a wide range of work in theatre, television and radio drama. Her theatre work includes Peter Pan at the National Theatre, Perpetua at Birmingham Rep, As You Like It and The Snow Queen for Oxford's Creation Theatre, Breezeblock Park and The Flint Street Nativity at Liverpool Playhouse, The Mayor of Zalamea at Liverpool Everyman and Tartuffe in Liverpool and at the Rose Theatre, Kingston.
Recent TV credits include Lewis, Eastenders and Silent Witness.
As well as playing Kirsty, Annabelle does a lot of other radio drama, spending three months in 2009 as a member of the BBC Radio Drama Company. Some of her favourite appearances include Wuthering Heights, Mr Lowry's Loves, My Turn to Make the Tea, Miss Marple: The Moving Finger, Single Parent Pal.com and Our Mutual Friend.
Annabelle lives in London with her husband Alejandro. They had a baby boy in 2010.
Archers highlights
Recording The Archers at Glastonbury! I and the actors who play Tom, Fallon and Ed got to go to Glastonbury to record the episode where Kirsty got back with Tom, helping him out with his sausage selling. We only recorded for two mornings and spent the rest of the time just having an amazing time at the festival. We also got to meet the late, great John Peel.
Other career highlights
Playing Catherine of Aragon in the TV series The Six Wives of Henry VIII. Having studied Spanish at University it was great to use it in my acting career. It was also fantastic to study the life of, and play, this amazing queen and to wear some wonderful period costumes.
My favourite job so far has been Moliere's TartuffeAnnabelle Dowler
Theatre-wise, my favourite job so far has been Moliere's Tartuffe at the Liverpool Playhouse. Roger McGough, who I was already a big fan of, wrote a fantastically witty adaptation and I just loved my character, Dorine. It's also always great fun to work back home in Liverpool.
Annabelle's thoughts on Kirsty
Kirsty is a bright, honest, friendly, fun girl. However I feel she lost her way a bit! She started out as this big eco warrior and it's a shame she didn't use her environmental passion in her career. I also feel, after quite a few let downs over the past few years, she deserves some luck romantically!
Favourite
Actor - Julie Walters
Book - The Time Traveller's Wife
Film - The Graduate