Helen Archer
Helen is fragile but doggedly independent.
| Fact title | Fact data |
| --- | --- |
| Played by: | Louiza Patikas |
| Born: | 16 April 1979 |
| Status: | Single |
| Occupation: | Shop manager / cheesemaker |
| Lives at: | Bridge Farm |
Her tendency to look on the darker side of life was not helped by her relationship with intense Greg Turner, who later committed suicide.
The sad story of Helen and Greg
Her grief set her on the road to insecurity and self-doubt and she succumbed to an eating disorder, losing her way for a while in her confused attempts to find her identity.
Counselling and the support of mum Pat and dad Tony set her on the road to recovery, and she's enjoyed the success of the farm's shop and her own Borsetshire Blue cheese, while helping Oliver Sterling manufacture and launch his own brand.
But more disappointment in her personal life led her to a big decision - to become pregnant by donor insemination. Tony in particular found it hard to accept her choice, but with the emergency delivery of baby Henry on 2 January 2011, the rift seemed to melt away.
The full story of Helen's pregnancy - with audio clips
Helen seemed happy with Henry as the male in her life. But a short-lived affair with a married man - Rob Titchener - threw her into disarray.
Could you keep an eye on Henry while I run these over to the shop? Helen Archer
Likes - Being in control, cheese
Dislikes - People questioning her decision making
Highs - The birth of baby Henry
Lows - The death of her brother John in a tractor accident; Greg's suicide
Louiza Patikas
Louiza is half Greek, and spent the first few years of her life in Athens. She has also lived in France. She has a first class degree in French and Drama, and she trained at the Drama Studio in London, where she was awarded Best Actress.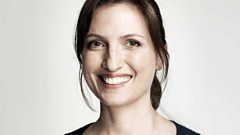 Louiza's television credits include ITV's comedy-drama Planespotting, Gimme 6 and The Colour of Funny. Film work includes Italian feature film Devil's Eye and British films Inside Out, Bullies and Virgin Birth.
She has performed in numerous stage and radio plays in the UK and France, and she is a successful voiceover artist. She also works as a freelance fashion stylist and journalist. She has written for BA High Life magazine, The Daily Telegraph and Mr & Mrs Smith, where she is a regular reviewer.
Her portrayal of Helen Archer contributed to The Archers winning the MIND Champion of the Year Award 2005. The storylines singled out included Greg Turner's depression and suicide, and Helen's grief and subsequent eating disorder.
Louiza lives in London with her husband and son. She makes regular visits to her Greek family in Athens and to her mother's home in Italy, as well as trips to Paris and Bordeaux to see old friends. She recently travelled to Japan, and if it weren't for her dislike of fish and seafood she would love to live there.
Other career highlights
Making the ITV comedy drama Planespotting in 2005. Not only did we shoot in Portugal, but that was how I met my husband, Jonny.
Archers highlights
As Helen, the brilliant eating disorder storyline – it was so well written and given lots of space to develop.
I couldn't follow his joke because I was too excitedLouiza Patikas
As me, meeting Prince Charles at St James's Palace for the programme's 50th anniversary celebration. I couldn't follow his joke because I was too excited, but I pretended to, and laughed when I hoped the punchline came. I think it was about chihuahuas.
Louiza's thoughts on Helen Archer
There are many shades to Helen; some may say predominantly 'deadly night-' shades, but I think she has been misunderstood ever since her teenage run-ins with Clarrie. She is an ambitious, competitive career woman, but also home-loving and devoted to her family. She may have a few hard edges, but fate has smote in myriad ways leaving Helen vulnerable yet still standing. I think she's a trouper. I'm glad she's aiming higher professionally these days; much as she enjoys being knee-deep in Borsetshire Blue cheese, there's more to her than that.
Favourite
Actor - Jeanne Moreau, and I'm a huge fan of Mark Rylance.
Book - The official Scrabble Wordbook.
Film - Impossible to pick one, but I'm a sucker for Jacques Tati, especially Les Vacances de Monsieur Hulot and Mon Oncle. I've just rewatched The Godfather films, which I think are fantastic.