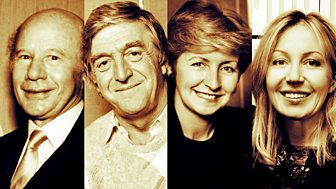 Desert Island Discs
Desert Island Discs was created by Roy Plomley in 1942, and the format is simple: a guest is invited by Kirsty Young to choose the eight records they would take with them to a desert island
Find every castaway from 1942 to the present. Listen to over 1,500 programmes.
Find castaways & choices
The EastEnders actress speaks about love, tragedy and her life on stage.

An illuminating and emotional interview with the international rugby union referee.

Kirsty Young celebrates with a Radio 4 Extra special, including her favourite interviews.

How would the former England captain survive on a desert island?

Many castaways have shared moving moments of difficulty, regret, disappointment and loss.

Memorable castaways that have raised a smile, or caused a chuckle, along the way…

There are some unusual items in this time-lapse video. Can you guess who picked them?

The columnist, writer and screenwriter's story is extraordinary.

Elvis, The Rolling Stones and Bob Dylan. Which song kicked open the door to his mind?

Whether conquering her fear of deep dark water or beating drugs, she's done it her way.

Multiple Oscar winner and universally loved Tom Hanks is Kirsty's castaway.

A history of the programme, facts & figures and profiles of presenters past and present.