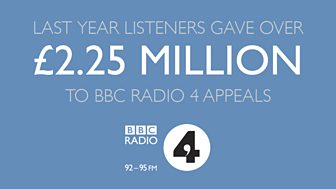 Radio 4 Appeal
A weekly programme highlighting the work of a charity and appealing for donations. The presenters give their time without payment.
On radio
Next Sunday 07:55
BBC Radio 4
All upcoming (1 new and 3 repeats)
Find out how to apply to have your charity featured on the Radio 4 Appeal.

See pictures and updates from some of the charities featured every week.