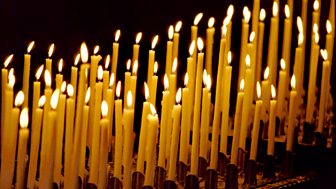 Prayer for the Day
Radio 4's daily prayer and reflection
Script
Good morning.  Come Halloween, you ever wonder what happened to the child in us?
The inner child who used to be capable of
Wide-eyed wonder
And brave trust….?
Do you remember when we
were once pioneers and adventurers
Now, more often, we're concerned with safety- caution, suspicion:
There used to be a restlessness –
 now there is complacency.
Time was we were hungry for ideas
now we are resistant to change, afraid of innovation.
Then it was asking all the questions – thousands of questions …
Now it's knowing all the answers.
Where did it go.. how did it happen
Where are the children we were?
Where are we?
Once it was child-like trust
–now it's cynicism - and a pride that won't bend.
It used to be love, open arms, generous eager hugs
Now it's fear of being hurt and a pride that won't submit.
Then, our imagination ran free – now, the vision is jaded and jaundiced.
What has happened?
How did it get like this? How did we get like this?
Once there was a kind of intuitive feel for spiritual things, an openness to something beyond ourselves -
Now there are structures, and rigidity and the formalities of religion.
Time was there was no agenda
Now there is a whole raft of agendas…
Then there was awe and wonder –
 now it's routine and taking it all for granted
We lose a lot when we silence our inner child…
But all is not lost - we can rediscover that spontaneity, that willingness to try new things, explore the unknown.
It just takes a shift of emphasis – a wee change of direction. It's not about how old you are on the outside –but how alive you are in the inside!
Lord, show me what you meant about becoming like a little child.
And finding your kingdom when I do.
Amen.
The Right Reverend Nigel McCulloch
Good morning. As the days of national Remembrance pass until next year, I have a different kind of remembering today: because November 14th is when, long ago, my wife and I first met. No matter it was an unsubtley arranged meeting, we fell instantly in love, were engaged ten days later and at our wedding, pledged before God our love to one another "till death us do part".
A very important promise – for love is a complex and precious thing that, whether we're attached or alone, can both ease the heart and break it. Through the years we've come to know the truth that love is not love that alteration finds; and by the grace of God, have held together through the changes, worries, sadness and joys that shape life's roller-coaster journey for most of us.
Whether religious or not, people - and not least Christians - have love at the heart of many teachings and values – God's love for each of us whoever, whatever we are; and the need for love between fellow-humans of whatever race or creed. Though sadly, as the 18th century Jonathan Swift observed: "We have just enough religion to make us hate, but not enough religion to make us love one another." But what kind of love is at the centre of faith?
Not the sort implied by the title of the film my wife and I first met to see: Jesus Christ Superstar - which is exactly what Jesus wasn't. His life, his sacrifice, his template for living, was all about "selfless" love.
"Love" wrote St Paul "is kind…it doesn't insist on its own way…It bears all things, believes all things, hopes all things, endures all things."
May God give us that love today. Amen