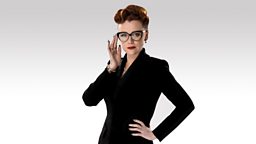 Keeley Hawes is the mysterious Ms Delphox in an episode of Peter Capaldi's first series.
Keeley Hawes Guests in New Series!
Doctor Who
Adventures in Space and Time.
Buy online
Available on:
DVD, Blu-ray, CD, Video download, Audio download
From suppliers:
Amazon, Audible.co.uk, BBC Shop, iTunes
Looking back on the Eleventh Doctor…
The Silurians Monster File
Doctor Who tweets
Content from Twitter. Learn more about content from Twitter.