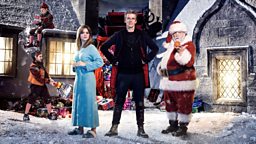 Here's the latest image for the Christmas Special… and you can watch the trailer now!
Doctor Who
Adventures in Space and Time.
Buy online
Available on:
DVD, Blu-ray, CD, Video download, Audio download
From suppliers:
Amazon, Audible.co.uk, BBC Shop, iTunes
We've over 30 galleries covering the Twelfth Doctor's debut season…
Doctor Who 50th Anniversary Guide
Watch Doctor Who Extra: Death in Heaven
Doctor Who tweets
Content from Twitter. Learn more about content from Twitter.