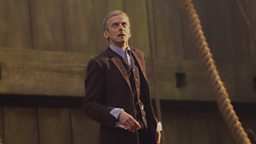 The new series starts with Deep Breath on 23 August! See images from the episode now!
Doctor Who
Adventures in Space and Time.
On iPlayer
This programme is not currently available on BBC iPlayer
Buy online
Available on:
DVD, Blu-ray, CD, Video download, Audio download
From suppliers:
Amazon, Audible.co.uk, BBC Shop, iTunes
The new series begins on Saturday, 23 August… See the latest teaser now!
Peter Capaldi is the Twelfth Doctor!
Doctor Who tweets
Content from Twitter. Learn more about content from Twitter.