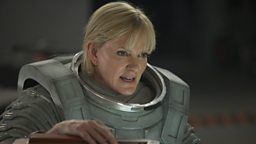 See the sneak peeks, including the latest trailer, for Kill the Moon!
Doctor Who
Adventures in Space and Time.
Buy online
Available on:
DVD, Blu-ray, CD, Video download, Audio download
From suppliers:
Amazon, Audible.co.uk, BBC Shop, iTunes
Catch the making of The Caretaker online or on BBC Red Button.
Peter Capaldi is the Twelfth Doctor!