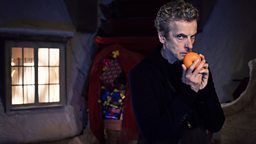 A scene from Last Christmas showing Santa doesn't need a chimney to make a big entrance…
Doctor Who
Adventures in Space and Time.
Buy online
Available on:
DVD, Blu-ray, CD, Video download, Audio download
From suppliers:
Amazon, Audible.co.uk, BBC Shop, iTunes
Nick Frost reveals why working with the genuine Father Christmas was a joy!
Doctor Who 50th Anniversary Guide
The Doctor Who Adventure Calendar, 2014.
Doctor Who tweets
Content from Twitter. Learn more about content from Twitter.