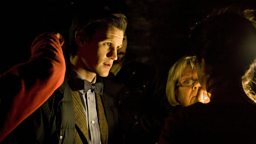 Fun facts and trivia… Find out more about the adventure!
The Rebel Flesh and The Almost People
Doctor Who
Adventures in Space and Time.
Buy online
Available on:
DVD, Blu-ray, CD, Video download, Audio download
From suppliers:
Amazon, Audible.co.uk, BBC Shop, iTunes
Multiple Hugo Award Nominations for the Doctor!
Doctor Who tweets
Content from Twitter. Learn more about content from Twitter.