Hampstead aggravated burglary
Police want to catch the man who broke into an elderly couple's home as they slept and held them hostage.
| Fact title | Fact data |
| --- | --- |
| Crime date | Thursday 4 August 2011 |
| Nature of crime | Aggravated burglary |
| Where | Hampstead, North London |
| Contact | Metropolitan Police |
| Incident room number | 020 8733 4439 |
What happened?
Police are appealing for help to catch the man who broke into an elderly couple's home as they slept, holding them hostage for hours.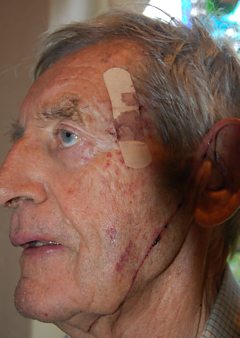 Elizabeth and Richard Bristow live in Hampstead Way, North London. The day of Thursday 4 August had been a normal day. They had gone to bed at approximately 11:30pm.
They were woken suddenly by the bedroom light going on and a huge at the bottom of the bed. The man was black, 6 foot 5 inches to 6 foot 6 inches tall, dressed in dark clothing and gloves with his face covered. He was brandishing a large stick.
The offender had got into the house via a small first floor window.
They began to fight back and in doing so suffered cuts and bruises. Mr Bristow suffered a large cut to his face as well as swelling to his arm.
The offender pulled the victims out of bed and pulled off the bedclothes. He held them on the floor until they stopped struggling.
He asked them where the safe was located. They answered that they didn't have one. He asked for jewellery but Mrs Bristow told him she could not get her wedding ring off her finger. She gave him some cash from her purse.
The offender was very worried about leaving forensics behind. He told the couple to strip the bed and move into the bathroom. There, he made them get into the bath. He ordered them to "shower down" and clean themselves with soap, even when it was pointed out to him by Mrs Bristow that this was a pointless exercise as he was wearing gloves.
He then made Mrs Bristow tie her husband to the taps with a pillow case while ordering she accompany him to the spare room with cleaning fluid and a face flannel. He insisted that she wipe the bedroom window where he gained entry.
After instructing Mrs Bristow to open one of the bigger windows so that he could escape, he led her back to the bathroom. He assisted her to help Mr Bristow out of the bath.
He appeared to have been surprised to find an elderly couple in the house and at times was caring towards them, placing towels around Mr Bristow to prevent him from getting cold and fetching Mrs Bristow dry clothes.
Despite this, his mood was unpredictable and the couple were conscious not to push him too far in case he lost his temper.
After a few hours and after spending a considerable amount of time with the couple in their dressing room, he decided it was safe for him to leave. He locked them in the room, taking the key away with him.
The couple managed to call for help out of the window.
Although they have improved security at their home, the couple say the incident has left them feeling nervous, especially at night. They want the man responsible to be caught to prevent him from re-offending.
Appeal points
Description of offender: Black, aged 25 to 35 years, 6 foot 5 inches to 6 foot 6 inches tall, slim athletic build. He was dressed all in black and the lower part of his face was covered with some kind of silky material. His jacket and trousers were made of either waterproof nylon or gortex type fabric. There was a large logo on the front of the jacket which was made up of coloured shapes arranged in a circular pattern. The offender also wore thick ski type gloves.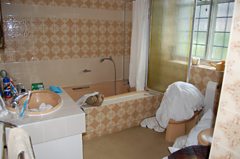 Weapon: Described as an old fashioned riding crop with an "L" shaped handle at the top. It appeared to have been broken, leaving a sharp jagged end. It was amber in colour.
Speech used by attacker: He had a deep voice and a cockney accent. He spoke very quickly and clipped his words. The following distinctive phrases were used by him during the course of the incident: "Where is your jewel box?", "What I want you to do is go in the bathroom and shower down.", "I want all this evidence destroyed.", "If it's any consolation, I'm really sorry. I didn't realise I was getting into a house with old people.", "I know it's wrong but this is what I do.", "This has been an ordeal."
Offender's demeanour: He was sweating profusely and had a very runny nose. He was agitated and nervous. He was apprehensive about leaving the property and deeply paranoid about forensic issues.