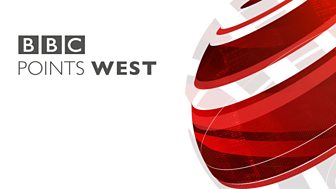 BBC Points West
The latest news, sport, weather and features from the West of England.
Alex Lovell
"There never was a master plan for my career," says Alex. "Other than to work hard, enjoy it and make the most of opportunities as they came along - but in the event it has followed a logical sequence."
The result has been a long, hard apprenticeship with a rich variety of experience. After working on a live shopping channel, Alex became host to Channel Five's Brainteaser.
By now, her work was centred in Bristol and she was spending more and more time away from her base in London, so Points West became part of her routine relaxation after work.
"When I heard there was an opportunity to join the team, I put in an immediate application. The BBC has always represented, for me, the peak of my ambition and I was ready for another sharp learning curve, this time into the field of journalism. I thought I could demonstrate the dedication and experience necessary to do the job and was over the moon to be given the chance to prove it," says Alex.
She especially enjoys the job when she has the chance to interact with West Country viewers. "They certainly know their own minds and provide the most wonderful responses," adds Alex.
David Garmston
After a few hopeless years working in insurance, where he managed to lose his company a small fortune, David persuaded a local newspaper editor to give him a job as a trainee reporter.
There followed a stint at the Sevenoaks Chronicle where he did obits, fetes and parish council meetings, before he moved to a bigger newspaper, The Gloucestershire Echo, where he reported on much the same things.
David managed to pass his professional qualifications, amazingly coming joint top in the UK, and felt emboldened to leap into broadcasting. His first port of call was at Radio West, a commercial station in his home city of Bristol. He reported, read the news and left shortly before the company folded. By luck, David was offered three weeks work at BBC Points West in 1985 and nobody seems to have noticed that he should have gone.
During that time he has enjoyed a front row seat as the history of the West Country has unfolded, covering many of the region's biggest stories for nearly 30 years.
These days he divides his time between reporting and presenting Points West during the week and the Politics Show on Sunday afternoons. When off duty, he spends much of his time day dreaming, thinking up ideas for novels and promising that he will run a half marathon... but not just yet.
Andrew Plant
Andrew presents our weekend bulletins and started working in the West Country in 2006.
He had worked in several different places before - Nottingham, Birmingham, Cambridge and the Channel Islands.
He grew up constantly 'borrowing' his grandad's video camera and filming little films - and then making his family watch them back! So he knew he wanted to work in television from an early age.
Andrew took a masters degree in journalism at Nottingham Trent University and then freelanced as much as he could to get his first job in news. Now he gets to use those camera skills for real - often filming and editing television news stories for Points West. Andrew also loves the presenting side of his job though - live television and breaking stories are an exciting part of working for the BBC. The hours are long and there is real pressure - but Andrew says that he wouldn't swap it for any other career.
When he's not working he can often be seen puffing and panting his way round Ashton Court - or trying to play football for the BBC five-a-side team.