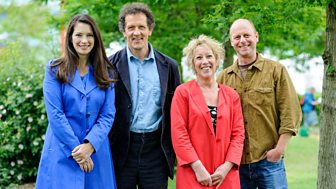 Gardeners' World
Gardening show packed with good ideas, tips, advice from experts and timely reminders to get the most out of your garden, whatever its size or type
On iPlayer
This programme is not currently available on BBC iPlayer
On TV
There are no upcoming broadcasts of this programme
Last on
Thu 13 Nov 2014 10:05
BBC Two
Get in touch
If you'd like to get in touch with the programme, please drop us a line at the email below. We receive a great many emails every week and can't always guarantee a reply, but we do read all of them and really appreciate the time and trouble you've taken to write them.
Help wanted
Have you recently taken on a garden that's completely overgrown and in need of some urgent attention? Or is 2015 going to be the year when you finally tackle that plot you've neglected for years? If so, we'd love to hear from you.
Please drop us a line using the email link below with a brief description of what you think needs to be done to create the garden of your dreams. A couple of recent photos would be really useful too, along with an idea of how long you've had this garden.
We very much look forward to hearing from you!