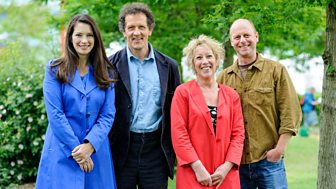 Gardeners' World
Gardening show packed with good ideas, tips, advice from experts and timely reminders to get the most out of your garden, whatever its size or type
If you fancy growing giant sunflowers this year, apply here for your free packet of seed.
Allotment appeal
If you have a remarkable allotment, we'd love to hear from you. Perhaps you grow a rare or exotic crop or your plot is in an extraordinary location. Either way, if you think your allotment is unique or different, please don't hesitate to get in touch!
Get in touch
If you'd like to get in touch with the programme, please drop us a line at the email below. We receive a great many emails every week and can't always guarantee a reply, but we do read all of them and really appreciate the time and trouble you've taken to write them.