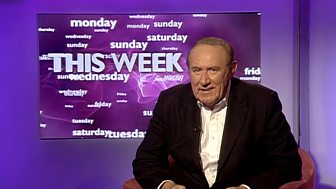 This Week
Andrew Neil, Michael Portillo and friends are on BBC One on Thursdays for late night political chat (repeated Friday 6pm BBC Parliament and on iPlayer for 12 months).
On TV
There are no upcoming broadcasts of this programme
Last on
Fri 18 Jul 2014 20:00
BBC Parliament
This Week tweets
Content from Twitter. Learn more about content from Twitter.